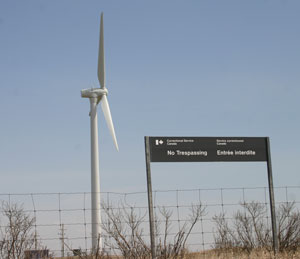 Performance testing on the new wind turbine installed at the Drumheller Institution has resulted in a delay in operating it.
    The turbine was installed in December to help offset some of the institution power costs, as well as improve its footprint.     
    However, performance tests were done earlier this year and their results pointed to a possible problem with some of the equipment.
    Dawn Bancroft, Chief of administrative services at the institution, told inSide Drumheller that the brake lining was part of the equipment which didn't meet the expected performance specifications.
    "In order to prevent any unnecessary risk of breakage to other components of the generator, we decided to shut it down until we can get replacement parts and that's under the manufacturer's warranty," said Bancroft, adding that the manufacturers were located in Germany and it was a specialized part so it had taken some time to get the replacement.     
    However, she estimated the part should be delivered late April, beginning of May and they are hoping to have the turbine up and running soon after.