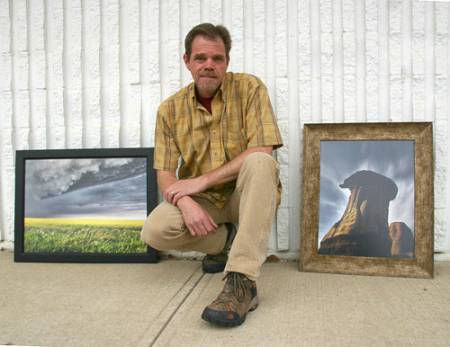 A Drumheller man's photography is turning heads, locally, provincially and internationally.
    About five years ago Darryl Reid took his photography to the next level, going from a hobby to craft at the urging of friends. He has stepped out into the photography world, and it appears that it has begun to pay dividends.
    His work received a special commendation from a jury of the 2010 Sony World Photography Awards. This means he was in the top 50 entered in the landscape category. This is one of the most prestigious photography contests in the world, and quite a feat as there were more than 45,000 entries overall in the contest.
    The photo chosen is entitled 'Carved in Sand', and it is a long exposure of the hoodoos taken at night, using only natural light. This is one of Reid's favourite techniques. 
    "With a long exposure, details you can't see in the dark begin to come out," he said.
    With international success, he is humbled, but also proud of another work that was shortlisted by the Visual Arts Association of Alberta.
    This photo, entitled 'Crop Buster' is a dramatic capture of an anvil cloud. His work will be on display with other selected works in Edmonton this summer.
    Many may already be familiar with Reid's work, as he was featured the Drumheller Public Library in May, and he will have another exhibition in August. His entry in the Sony World Photography Awards will be published in a book with other selected works from the contest in the near future.