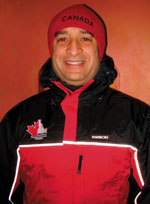 A Drumheller coach is taking the next logical step in his career accompanying the Canadian Special Olympic Ski team to the Special Olympic World Winter Games.
The Special Olympic World Winter Games are in Boise, Idaho from February 7 to 13. Martin McSween was selected in May of 2008 as an alpine skiing coach, and this coming Monday, will be on his way to the games.
"I'm excited, I've never been to this scale of competition before," said McSween. "It has been fun so far… and the athletes are pumped."
The Team Canada contingent includes 133 athletes, coaches and support staff. They will join upwards of 3,000 athletes from 100 countries to compete in winter sports that include alpine skiing, cross country skiing, figure skating, floor hockey, snowshoeing, snowboarding and speed skating. McSween leaves Alberta with team members with a police escort on Monday to join the Western Canada team in Vancouver. They will rally, and then be joined by the Eastern Canadian athletes before they head to the games.