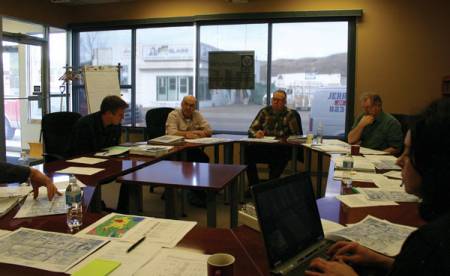 iTrans offers a further parking alternative, taking into account minimal changes to the current parking, which  would enable a better traffic flow on 3rd Avenue in downtown Drumheller.
    iTrans, the consulting firm which carried out the traffic flow analysis following Alberta Transportation's changes to 2nd Street, suggests another alternative would be to implement parallel parking between Highway 9 and 1st Street on both sides, with angled parking remaining as is on the remainder of 3rd Avenue.
    This would enable the creation of two lanes in that section of 3rd Avenue to ease the traffic flow congestion, losing 11 parking stalls.
    During the Parking Task Force meeting on Wednesday, March 31 at Community Futures Big Country's offices, Jay Magus, senior project manager for iTrans, explained the life expectancy of this alternative would probably be around five to ten years, after which it will need to be reviewed due to the increase in traffic flow.
    Magus highlighted this wasn't his preferred alternative however, due to safety issues.  He also felt  it didn't promote traffic flow in the area.
    When asked if data was available on the safety aspect of each of the parking options, angled and parallel, Magus said he didn't have any data on this.
    Following the Task Force's request, Magus provided a collision history data, dated September 2007, for 2nd Street West, showing 13 collisions in a 4-year period with no fatalities and two injuries, eight of the collisions occuring at the Gordon Taylor Bridge.
    With this in mind, there was a discussion around the intersection at 2nd Avenue West, the conclusion being that without a gap analysis, it was difficult to determine whether this intersection could be changed without affecting the safety of travellers.
    A question had been raised regarding whether a signal would be required in the near-term future at the Centre Street and 3rd Avenue intersection, which currently has a 4-way stop. Magus confirmed no signal would be required as this intersection was operating at acceptable levels for all alternatives.
    Bob Sheddy, Real Estate professional specializing in commercial properties, was invited to speak about the impact downtown parking has on businesses based there to the Task Force.