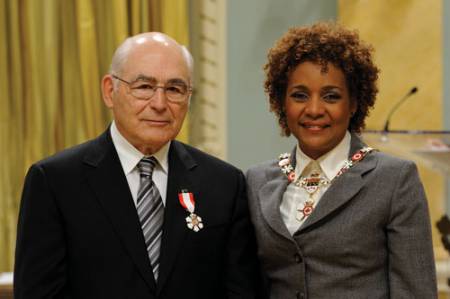 On Wednesday, April 7, Frank Lovsin, one of the founders, and CEO of Freson Market IGA was officially made a Member of the Order of Canada.
    The Drumheller Mail reported in its December 31, 2008 edition that Lovsin had been selected to receive Canada's highest civilian honour. He took part in the ceremony at Rideau Hall. Her Excellency the Right Honourable Michaëlle Jean, Governor General of Canada, who is Chancellor and Principal Companion of the Order, bestowed the honour on Lovsin.
    Lovsin was named a member of the Order of Canada for his contributions as a volunteer, philanthropist and entrepreneur. He has served as a vocal advocate for his community in regional and provincial affairs.
    In 1955, Lovsin and two other partners opened the original Freson Market in Hinton, Alberta. In 1962, the Downtown IGA in Peace River was built. Today there are 15 Freson Market IGA stores across Alberta, employing close to 1,000 people. Lovsin, is well known to many Drumheller residents, is still very active in the family business and visits the Drumheller store on a regular basis. He is well respected by residents and staff alike.
    He still loves going to work every day, and puts in a full 10-hour shift at the Peace River Supercenter.
    Lousin spearheaded the creation of the Independent Retail Grocers of Alberta. He has taken on leadership roles with provincial organizations including the Alberta Energy Board and the Alberta Mortgage and Housing Board. Locally he has served on the Peace River Chamber of Commerce and dedicated time to Fairview College.
    On Wednesday, the Right Honourable Michaëlle Jean named one Companion, 11 Officers and 31 Members to the Order of Canada. Among them was Olympic medallist  in both the summer and winter games, Clara Hughes. She was made an Officer of The Order of Canada.