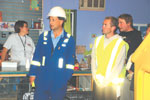 North Drumheller residents return home shortly after midnight last Sunday
Drumheller's emergency services avoided what could have been a serious situation Sunday night, September 14 after a 3/4 inch gas line to a residence was severed, spewing natural gas into the air.
About 150 residents from Larch Avenue, Beech Street and Grove Avenue in North Drumheller were immediately evacuated from their homes shortly after 10:30 p.m. by emergency personnel. They were directed to the former day care centre on Highway 9 North.