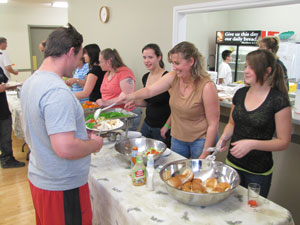 Autumn is in the air, the trees are turning golden, harvest is almost completed and Thanksgiving is around the corner.
If you do not have anyone to celebrate Thanksgiving with, The Salvation Army invites you to come to the Annual Community Thanksgiving Dinner.
There will be turkey with all the trimmings, pies galore, live music and more. It will be held on Sunday, October 9 at 5:00 p.m. at the Church of the Nazarene (627 – 6th St. E.).
All are welcome to attend this free meal. Please RSVP to The Salvation Army at 403-823-2215. It is highly encouraged to ensure we have enough food for all. Rides may be available upon request.
The Salvation Army is partnering with multiple groups and businesses to provide a wonderful and delicious experience.
The Salvation Army is also seeking support from the community for turkey donations. If you would like to donate items please contact Lt. Rachel Sheils at 403-823-2215.