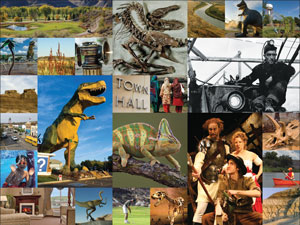 Joint marketing, lead by the Royal Tyrrell Museum, is producing dinosaur-sized results.
Alberta Tourism is considering the Tyrrell Museum for the Alto Award in the Marketing Partnership category for their "Drumheller – days and days of discovery" campaign.
Other finalists for the award are Brewster Travel Canada for "Unplug and Explore" in Banff, and Tourism Calgary and Partners for their "Experience WOW" campaigns.
The Alto Awards are given out annually to individuals and organizations who are committed to enriching tourism in Alberta, who inspire others with their efforts, and demonstrate the success of working together.
The "Drumheller – days and days of discovery" campaign is a partnership between various attractions, hotels, town, chamber, golf course, and theatre.
Multi-channel marking strategies using print, online, and mobile ads exceeded expectations and increased awareness of Drumheller. The success of the campaign was measured by online impressions, brochure distribution, and a five per cent increase of traffic to TravelDrumheller.com.
Previously there had been no leader in the community for marketing. "Drumheller is currently without a destination marketing organization, so there was no leader to initiate group projects," said Leanna Mohan, Marketing Coordinator at the Royal Tyrrell Museum. "We had to become our own leaders. It took initiative, trust and the ability to think bigger than our own operation."
Technology has been the key to their success. Mobile ads on smart phones and online ads on targeted sites made it possible to track success in new mediums. Members were also able to try new strategies without risking too much of their own limited funds.
"The key driver, the Royal Tyrrell Museum, made available its design and marketing expertise to a community project," said Linda Digby of the Atlas Coal Mine. "Having the museum get in the sandbox with local operators and stakeholders has been critical to our success."
The Alto Awards will be presented at the Travel Alberta Industry Conference on October 23-25.