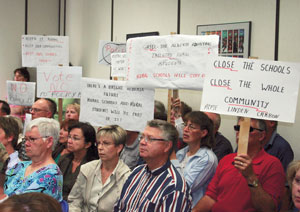 Golden Hills amends East Wheatland plan, reworks closure policy
It was a victory for rural school children in Golden Hills School Division, as their fate was put in the hands of their nine trustees at the Golden Hills trustees regular meeting on Monday, June 16.
A compromise for a proposed stand alone centralized school in East Wheatland was established. As well, a proposed policy making it easier for schools to be put under review for closure was sent back to the policy committee for re-development. The original proposals were critiqued by the possibly affected rural communities as potential cost cutting measures would only hurt their children.