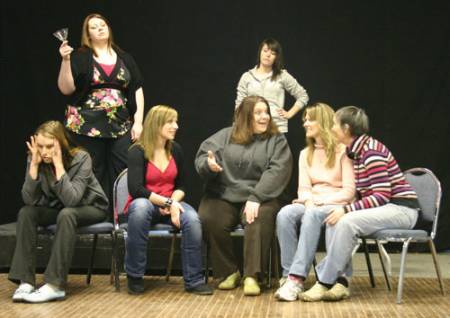 Kaleidoscope Theatre is presenting a powerful play giving a different perspective on addictions, for four nights starting on Wednesday, March 17 at the Navy League building.
    "Like Bees to Honey", a play written by Andrea M. Green,  is directed by Becky Neuman with Bill Pratt as stage manager.  Pratt is new to Drumheller and comes with extensive stage managing experience from Canmore. 
    The play tells the stories of five women from varied backgrounds and the effect drugs and/or alcohol addictions has had on their lives, giving great insight into how easy it is to get caught up in the downward spiral of drugs and alcohol.
     Kate, played by Cassandra Knight, is from a hard-partying Irish family and her drinking and pill usage affects her  career as a nurse.
    Rita, played by Jess Davison, moved from her home in Costa Rica to America at 17 and has worked hard work to transform her life until her addictions send her down an unfortunate path.
    Sara, played by Geraldine Holden, is an art professor, affected by her mother's drinking and whose own drinking affected her marriage.
    Jesse, played by Carol Todor, is a successful attorney who started drinking at the age of 13 and is in an alcoholic marriage.
    Keisha, played by Courtney Morse, seeks help with her drinking and drugs addiction after her drinking led her to batter one of her children.
    Set at a self-help group meeting, the characters share their journey during their recovery and give an insight into unique issues women face when dealing with addictions.
    Most of the women are well into the process of recovery,  Rita however is defiant and her recovery is in question.
    Other cast members include a teen girl heading down the spiral, played by Jenn Eskeland, and two supporting actors, Deanne Zariski and Kelly Bertsch, who play a variety of roles in order to tell the stories.
     Cora Bolt, addiction counsellor for Alberta Health Services, told The Mail "Any addict will relate to some of the stories and some of the struggles but the process for women, we feel, is really unique. Some of the challenges they face are unique such as, fear of losing their children and fear of judgement. The first step is reaching out for support.  Once they do that, a lot of them realize they are not alone."
    This character play provides the cast with rich acting opportunities as most of the stories comes through the words.    
    About some of the challenges faced by the cast, Becky Neuman said "Getting these girls, who haven't experienced alcoholism themselves, to get into that character and to live with that addiction is a big challenge," explaining it can be difficult to find people who have gone through addictions to talk about it.
    Drumheller offers a variety of support for people suffering from addictions, Cora explains, "It's a matter of deciding what you need, what support you are looking for and who can offer this," and suggests the Alberta Health Services website is a good place to start to see what is available in the valley.
    This play is recommended for everyone to learn more about addictions and to understand the struggles women face dealing with those.
    Due to the mature subject matter, it is not appropriate for children under 13.
    The show starts at 7:30 p.m., tickets will be available at the door from 7 p.m. on March 17.