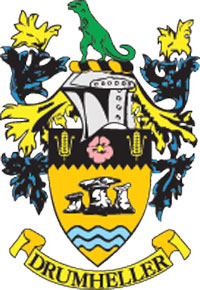 Council Notes
Committee of the Whole Monday, November 21, 2016
During November 21 Committee of the whole meeting Cindie Hughes, new chair for Travel Drumheller, gave an update on Travel Drumheller. Mrs. Hughes said that the board has revamped their ideas moving forward with promoting Drumheller as a year round destination as priority. In 2016, Travel Drumheller developed a full new logo and brand, as well as created a new mission statement and vision. The new vision helps showcase more than just dinosaurs and shows what Drumheller has to offer. Mrs. Hughes said that some key initiatives for 2017 are to create a new visitor guide, that will be magazine size and be digital and social media compatible; implement a digital focused marketing campaign including website, social media advertising, content creation and dissemination; stronger communication with stakeholders; media partnerships with local regional media on weekly tourism tips, Valley events and industry news that will target not only tourists but locals as well; and create clear Benchmarking, analytics and evaluation metrics. Mrs. Hughes said that Travel Drumheller is hoping the town will support them by putting $40,000 toward moving forward.
•••
Local mom, Nikki Isley, spoke on behalf of the Greentree school council to request in kind donations by the town to help make some additions to the Greentree school playground a reality.
Mrs. Isley said, "with the school's ever growing student population has made a playground addition a necessity, We wanted to put in more elements that were more attractive to the older grades, as the current playground is more geared toward the younger grades. Along the way accessibility became an important factor thus changing the focus to include several elements that allow inclusive play and accessibility. The playground will be open to the public."
Mrs. Isley explained to council that it was deemed necessary to do some upgrades by removing the gravel, around the current playground. Also since the current playground did not have adequate drainage, weeping tile is also an important part of the upgrades.
The school council presented the council with plans, picture and an outline of the costs needed to fulfill the upcoming upgrades.
Currently, Friends of Greentree School Society has raised $95,000 and have applied for the Municipal Demonstration Grant for about $22,000 and the Community Facility Enhancement Program (CFEP) which is a program that matches funds raised up to $125,000. Mrs. Isley said that they are looking to the town for in kind work such as labor or excavation of the site. These in kind donations can be added to the amount raised for the matching grant through CFEP.
CAO, Ray Romanetz said that they have already given a letter of support to the Greentree school council and it looks very positive that the town could help with the in-kind donations.
•••
The Director of Corporate Services, Barbara Miller, proposed that the Town of Drumheller award the contract for banking services to Scotia Bank. Scotia Bank and Chinook Financial were found the top two financial institutions after considering what all six financial institutions had to offer. Council agreed on a five year contract with Scotia Bank.
•••
Tom Zariski provided council with an update on The Friends of Drumheller. He said that a main priority that the society was facing was to find about ten people to serve on the society for it to be successful. Zariski challenged council to go out and personally recruit the people to be a part of the society. Council agreed that administration and councillors have to come up with two names of people they want to approach to join The Friends of Drumheller Society. This society gives people the opportunity to be able to be involved in fundraising efforts to benefit the town.
•••
The meeting then turned to legal in-camera matters.