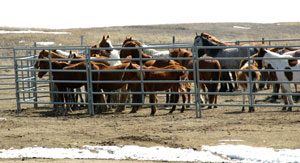 Approximately 12 cows and horses were found deceased and three or four had to be euthanized at a farm property south of East Coulee, after citizen complaints led Alberta SPCA to find 140 horses and 200 head of cattle all in poor conditions, RCMP said Thursday.
inSide Drumheller broke the news Wednesday evening that the ASPCA were rounding up horses and cattle weeklong after the allegedly malnourished and improperly cared for livestock were found on the Wheatland County property.
Complaints of stray animals led the ASPCA to the property last week, and upon seeing the animals, they obtained a warrant to remove the animals, an ASPCA spokesperson said on Wednesday.
About 130 animals had been collected by Wednesday, to be sent to a holding centre for a 10 day period.
The ASPCA will be bringing animal cruelty charges to the Crown once the investigation is finished.