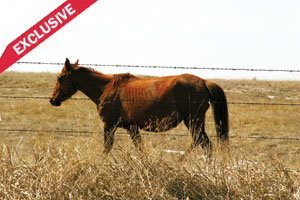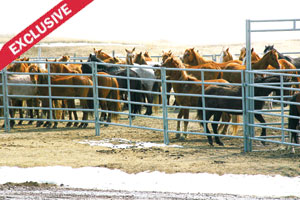 A Wheatland County property owner may be facing Animal Protection Act and Criminal Code charges as the Alberta SPCA has been rounding up 400 allegedly mistreated horses and cattle since Monday.
    One stallion had to be euthanized and the ASPCA suspects more will have to be put down.
    As of Wednesday, the ASPCA had corralled 130 of the 400 animals.
    Rick Wheatley of the ASPCA said the individual, who owns property south of East Coulee, has breached a 10 year prohibition from previous offences. His prohibition only allowed him to keep 10 horses, 20 ponies, and 10 cows.
    The company of John Barry Graham allegedly broke codes of the Animal Protection Act for not providing food, water, and veterinary care to the horses.
    "A lot of animals are in poor condition, and as a result, animals are going to be removed for their welfare," said Wheatley, speaking from the property on Wednesday. "We've been able to load most of these animals onto the trailers, and haven't had to do anything else."
    The ASPCA will be bringing to the Crown charges of breach of prohibition, two charges under the Animal Protection Act, and stray animal charges which are already in the process of being dealt with.
    Officials were tipped off about the property from numerous stray animal complaints, and once on Graham's property last week, they noticed the mistreated animals. They attained a warrant, and began work on removing the distressed animals Monday.
    "We've dealt with this individual a number of times over the last couple of years, and it culminated with this prohibition breach," said Wheatley.
    RCMP attended the property, rounding up the livestock using ATVs and on horseback.
    On Wednesday, the colts and adult horses were corralled to eventually be loaded into a livestock carrier near Highway 564, southeast of East Coulee.
    The animals will be brought to Bow Slopes, where they will be held for a 10-day period.