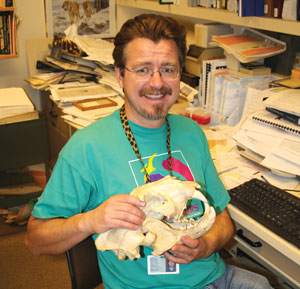 If you loved learning about Alberta's bats a few weeks ago, but left wanting to know more about how bats evolved, you won't want to miss this week's talk.


    The Royal Tyrrell Museum's Speaker Series continues this Friday, March 11, with Dr. Kevin Seymour, Assistant Curator in Vertebrate Palaeontology and Collections Manager at the Royal Ontario Museum, Toronto.
    In his talk, Dr. Seymour will present an overview of what is known about the evolution of bats and how a unique and exquisitely preserved 52-million-year-old fossil bat from Wyoming, now housed at the Royal Ontario Museum, changed everything palaeontologists knew about bat evolution.
    Dr. Seymour will demonstrate how palaeontologists were able to infer the echolocating and flying abilities of this fossil bat, and how the results have important implications in understanding the evolution of flight and echolocation in bats.
    Speaker Series talks are free and are held on most Fridays until April 29, 2011 at 11:00 a.m. in the Museum auditorium. Each talk is approximately one hour long. Visit www.tyrrellmuseum.com for the most up-to-date schedule for the Speaker Series.
    Speaker Series talks are also online on the Royal Tyrrell Museum channel on YouTube: http://youtube.com/user/RoyalTyrrellMuseum.