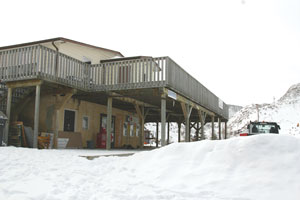 Community Futures has foreclosed on the property owned by Drumheller Valley Ski Club (1997).

Drumheller Valley Ski Club defaulted on a mortgage borrowed from the Alberta Treasury Branch in 1993. The sum of $250,000 was advanced to the club. According to court documents, the mortgage was in default in March 2010.  In June of last year, the Alberta Treasury Branch transferred its action including the mortgage and all rights thereto to Community Futures Big Country.
    On February 4, Community Futures swore an Affidavit of Default and on February 17 Justice Bast made a Redemption Order declaring the mortgage valid and enforceable.
    According to the documents, as of January 21 of this year, Community Futures is owed $63,076.30,  which could very soon be realized by the sale of the lands that are subject of the proceeding.
    Jordan Webber of Community Futures Big Country confirms the organization has taken the step.
    "To continue with foreclosure was the only option for moving forward," said Webber. "The reason for that was the significant dollar amount owing on the property in conjunction with the outstanding lawsuit. It made other options simply not suitable," said Webber.
    A 2008 incident at the ski hill resulted in the Ski Club, the Canadian Badlands Passion Play, Christ the Redeemer School Division and the Town of Drumheller being sued.
    He explains that to move forward without the lawsuit, the encumbrances on the land would follow. Any party who would want to operate on the land would still face the encumbrance of the lawsuit.
    "It was our perspective, for the good of the community and for the good of outstanding loans the ski hill owed to our office, that foreclosure was essential to move forward for the community to have the opportunity to have an operating ski hill at some point in the future," said Webber.
    He said in the court's eyes, the mortgage is a higher priority than a lawsuit.
    The Redemption Order allows six months for the Ski Club or anyone entitled to do so to realize the debt. If after six months the mortgage has not been satisfied, the land will be sold through the court through a tendering process.
    "When lands are sold through the court, they are guaranteed to be free of encumbrances. In priority order, if monies were available the debts would be satisfied by the sale of the land. If there were money left to satisfy a plaintiff's claim, the money after our requirements would go to that purpose. If there isn't, that encumbrance is removed without it being satisfied," explained Webber.
    The action is on two blocks of land co-owned by the Ski Club and the Canadian Badlands Passion Play. The foreclosure is on the Ski Club's share in the land.