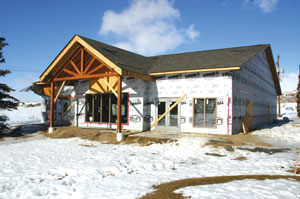 This year's annual Dinosaur Trail Golf and Country Club dinner and auction will be in a place they can call their own.

    The tournament facility embarked upon last year is progressing along at such a pace the golf course is confident that this year's event will take place in the new 3,600 square foot banquet area come April 9.
    "The whole idea is to showcase our new building, to get people out and see what we do," said golf club manager Scott Westman.
    Following last year's auction success, they are continuing with a travel theme. Along with myriad auction items donated by local individuals and businesses, they will be raffling a travel voucher.
     "We will be selling tickets for a choice of trips. If you win, you have a choice of going to New York, San Antonio or New Orleans. These are four night trips for two people, hotel and flights covered," said Westman.
    Again, attendees also have the chance to win a trip to Las Vegas. Those who buy a dinner ticket and attend the evening will be entered for a trip to Sin City.
    He said the new building is getting close to completion, and features a 60' by 60' banquet area with a bar and full kitchen. The space is bathed in natural light from impressive picture windows overlooking the first fairway. The building's capacity is in the 200 range and it will eventually feature a large patio.
    With the new facility, they are hoping to host a variety of events at the golf course. Already he says they have four weddings booked, and more social functions lined up.
    "It has taken us a while to get this far, but I think now that the structure is up as a whole, the golf course will start looking for other projects to complement the facility," said Westman.
    The annual golf auction is dedicated to help realize the tournament facility construction.
    Currently they are looking for donations to the auction. For more information, to buy tickets to or donate items to auction, contact Westman at 403-823-5622. Tickets are also available from board members.