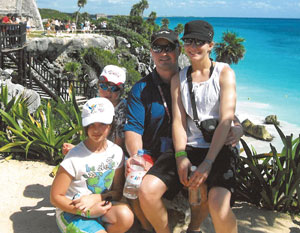 Charges have been laid against five people in connection with a deadly explosion at a Mexican hotel in November, which claimed the lives of Drumheller locals Chris and John Charmont, Mexican authorities announced Monday.

    Mexican officials have issued five apprehension orders over the explosion at a Playa del Carmen hotel which claimed seven lives.
    The apprehension orders were issued for manslaughter, negligence causing injury, and professional misconduct, according to a Mexican newspaper. No names were released, but the Diario de Yucatan newspaper reported the orders were issued for both hotel employees and non-employees.
    The Playa del Carmen municipal government also fined the Grand Rivera Princess Hotel $481,000 one month after the explosion.
    Chris and John Charmont were among seven killed in the blast on November 14, 2010. Five were Canadian tourists.
    A probe was launched following the explosion, and a municipal investigation indicated a natural gas leak was the source of the blast.