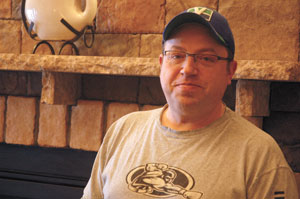 "Did you bring your bathing suit?," the Best Western front-desk attendant asks comedian Brent Butt as he picks up keys to his Three Hills room on Friday.

    "I was born in one," he replies with the same sarcastic wit pump-jockey 'Brent Leroy' made famous in what was undisputedly Canada's most successful half-hour comedy, Corner Gas.
    Butt, 44, has just travelled from his home in Vancouver to perform a stand-up comedy fundraiser for the St. Mary's Health Care Centre in Trochu.
    Taking time to get back to his roots in stand-up after recently finishing the filming of season two of his high rated show Hiccups, Butt sat down with The Mail shortly before the "live sacrifice rituals" he jokingly claimed to perform before stand-up shows
    "I'm pretty good at switching hats," says Butt, who writes, produces, and stars in the sitcom with co-star and wife Nancy Robertson, whom he met on the set of Corner Gas, "and it helps that it's all related – it's not like on is doing taxes and the other is downhill skiing."
    "Stand-up is kind of my first love, my true calling, and where I think I'm most comfortable."
    Butt had known since he was 12 the stage is where he wanted to be, growing up in the small town of Tisdale, Saskatchewan. But the hope wasn't to create a Canadian television phenomenon like Corner Gas turned out, but to feel good while making others laugh.
    "I never fancied myself an actor, it just kind of evolved that way. For me, it was always about stand-up, with the notion of doing stand-up on TV."
    "There's more acting in stand-up than people realize. It's like a little play every night, doing basically the same dialogue, and the onus is on you to make it seem fresh and new.
    "That's the crux of acting:" Butt has learned, "to make it seem like you don't know what to say when you do. It's happening naturally in the moment."
    Butt's acting wasn't far from his real self when he played 'Brent Leroy', the Corner Gas register attendant and comic book lover. Stan Dirko, the life-coach who assists the neurotic, unstable children's author Millie Upton (Robertson) in Hiccups, was a farther stretch of Butt's acting abilities.
    "He's not really like me – I'm more inward thinking and looking than Stan. He looks outside himself and helps people. I get wrapped up in my own thing, like most people do with their work – trying to make ends meet and forge ahead with a career. Stan puts people first, and I don't think I can take credit for that."
    Butt's repertoire will be tested even farther when he hopefully begins shooting  his upcoming film No Clue, where he'll star, write, and co-produce in the comedic 'whodunnit' mystery.
    "I'm a big fan of old detective movies, but the idea was to do a mystery that was also funny. It's nice to blend two genres together, and in a way that remains believable. I've been getting good feedback on the script."
    Comedy is something Butt believes he'll never escape from, like he did to the prairies of Saskatchewan.
    "When I was growing up on the prairies, there was always the thought of 'what am I doing here?'. I always knew my calling was going to be outside of the prairies."
    His parents didn't understand his aspirations, but he didn't feel pressure from them to pursue any particular path in life. "I was blessed that way, they said for me to find something that makes me happy and don't break the law."
    Butt came around at a phenomenal time in the comedy scene– the early 90's brought a comedy boom that hasn't been seen since.
    "I came along at a really fortunate time in comedy. It was probably the high water mark in terms of making a living at it. My living was meager, but comics starting now have a lot fewer opportunities to make a couple bucks.
    "I probably came on during the best time in the history of the planet... but I would've pursued it no matter when."