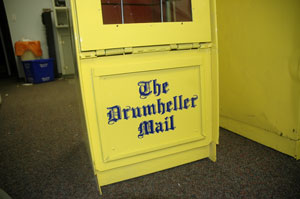 The Drumheller Mail has received feedback from a number of subscribers concerning issues receiving their Drumheller Mail through the post office.

    The Mail reported in its December 29 edition that residents were having trouble receiving their mail. It appears The Drumheller Mail has been affected.
    The Drumheller Mail delivered the newspapers to the post office for distribution on time, however due to unforeseen circumstances they have not made it into some of our readers' mailboxes.
    We value our loyal readers and in earnest want to get our paper to them in a timely manner. Subscribers can come to The Drumheller Mail at 515 Highway 10 East, to pick up their issue.
    We will also be providing a stand at The Brick in downtown Drumheller for subscribers to conveniently pick up their issue of The Drumheller Mail. Look for the bright yellow newspaper stand.