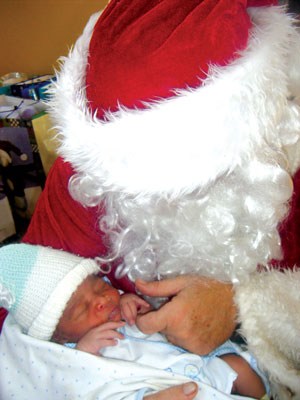 Fred Makowecki of the Morgan Jayne Project sent this letter describing the Christmas party on Roatan, where money from the generous donators of Drumheller supports the Familias Saludables clinic.
    There, they treat infants born to HIV positive mothers, and sometimes treat the kids to unimaginable days on the impoverished island.

    Imagine the best day of your life as a child. No wait, just a minute – imagine first that you are a child in a third world country. Your parents love you and try hard, but often you don't have enough to eat, you frequently are infested by parasites and if you go to school you are considered lucky.
    Now, add that your mom (and your dad too if he's around) has AIDS. Your neighbours, friends and family shun you and want nothing to do with you. Kids at school spit at you and even the teacher makes you sit in the corner, away from the other kids in case you "infect" them with AIDS germs you've brought from home.
    Maybe you have AIDS as well? You were born too late to get into the Morgan Jayne Program and so every day you take medication to stay alive, knowing that if you're over two, you already have outlived most predictions for you to be here.
    Ok, now imagine it's Christmas. Not a particularly happy time for a child in your circumstances, but then, once again, imagine what the best day of your life would be.
 It would start with you getting up and getting bathed, your  mom putting on the new outfit that she'd gotten from  Familias Saludables the week before. She would do your hair, slick it, braid it – whatever it takes so you look your best. You go with your family to the one place on the island that every kid wants to go, the new fast food place: Wendy's Play Park. You've seen this from the outside before, but your parents' could never afford to take you there, besides it's not for poor kids is it? You not only get to go into it but you get to play at the play park and they bring your hamburgers and fries and soda!
    If this wasn't enough, Santa comes with a huge bag of toys for you, and you don't have to share, your brothers and sisters get their own!
    You look inside and you can see that every gift was picked especially for you, the clothes fit you, you've gotten exactly what you wanted and no kid got the same things. Your heart is ready to burst. They feed you all the chocolate cake you can eat. Your mom and dad are so happy, you see them laugh for the first time in months. Then a nice man comes and gives you a special button and tells you with this button you can ride the brand new Ferris wheel outside! What? The Ferris wheel is just opening today and everyone knows it costs a dollar and a half to ride it. No, remember this is your fantasy, you get to ride it for free.. again and again. While you're standing in line, that nice man hands out little toy cars and cameras to  you and all the kids with  a button!
    All the other kids, the kids whose parents have money to ride the Ferris wheel, beg for a button and ask if they can join your club. For once in your life someone wants to be in your shoes! Then Miss Valerie Nelson comes with a whole stack of things that look like credit cards in her hands and tells you to follow her. She leads you to a place in the mall you've never seen but you've seen ones like it on TV. It's a games arcade and Ms. Valerie hands you a card that's good for any of the games there: motorcycles, bumper cars, air hockey, win a prize games… anything you want!
    You are almost delirious as you run around choosing games and  trying to absorb all this. It's Ms. Valerie again, taking you back to Wendy's for more food.  You were just getting hungry again and they are feeding you again! This makes two meals you've had today!
    Then outside where they have a big ceremony and they dedicate it to you, your family and the other families there like yours. They ask you to count backwards from ten. You don't know why but you do it, at zero the fireworks light up the sky. They know all kids love fireworks! After a phenomenal display they feed you again, little taquitos, sandwiches and iced tea. By then it's well past dark but a few more Ferris wheel rides, and a marching band that's come to play!! You go home, hugging your toy bag happier than you've ever been before.
    This is the day you helped  provide for our children from the AIDS program on Saturday. Thank you, you have fed their spirits.
    Merry Christmas.