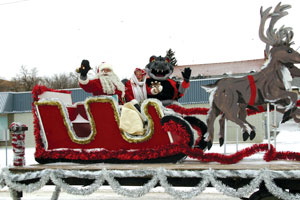 Since 1955, NORAD has been tracking Ol' Saint Nick as he trots the globe delivering presents on Christmas Eve, and again this year people may track his progress online at noradsanta.org.     Using the North Warning System, NORAD has inadvertently began tracking Santa on his journey, using a network of 47 installations strung across Canada and the United States.
    Immediately after lift off, his sleigh and reindeer are spotted on radar and are escorted by jets as he makes his way to the house of every child who holds Santa in their hearts.
    The Santa NORAD website says Santa usually starts at the International Date Line in the Pacific Ocean and travels west. Historically, NORAD says, Santa visits the South Pacific first, then New Zealand and Australia. After that, he scoots up to Japan, over to Asia, across to Africa, then onto Western Europe, Canada, the United States, Mexico and Central and South America. They note his route can be unpredictable due to weather.
    NORAD intelligence reports indicate that Santa does not experience time as the rest of the world does, and suggests his trip might seem like days, weeks, or even months to Santa.
    "In most countries, it seems Santa arrives between 9:00 p.m. and midnight on December 24," noradsanta.org says, but added he does not stop at houses with awake children, opting to return once they're nestled down.
    Over the past 50 years, NORAD's fighter jets (F-16s, F-15s and CF-18s) have intercepted Santa many times, building a mountain of evidence supporting his existence.
    They estimate he is 16 centuries old, stands 5 feet 7 inches tall, and weighs approximately 260 pounds (before cookies). Based on fighter-aircraft photos, NORAD knows he has generous girth, rosy cheeks from riding in the cold weather, and a flowing white beard.
    NORAD has yet to observe him crash.
    Those looking to track the big guy on his journey this Christmas eve can do so at www.noradsanta.org, and also follow him on Google Earth.
    Their website states more than 1,250 Canadian and American uniformed personnel and civilian volunteers donate their time on December 24 to answer thousands of phone calls and e-mails from around the world. The NORAD Tracks Santa program is made possible by volunteers and through the support of corporate sponsors who bear virtually all of the costs.