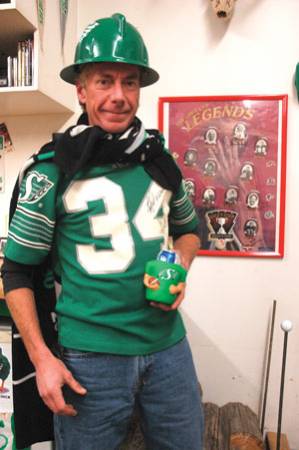 With the Stamps loss to the fan-favourite Roughriders on Sunday in the CFL Western Final, the melonheads of Drumheller are prepping for a rematch of last year's Grey Cup in Edmonton this coming Sunday.

    Losing 20-16 to Saskatchewan at a frozen McMahon Stadium, Drumheller–which usually lies within Stampeders country, will inevitably turn the infectious green of "Rider Pride"  as the team faces the Montreal Alouettes to regain dignity lost in last year's "13th man" incident which cost them the Cup.
    "I think they've all gone to school again and learned how to count to twelve," says Roughrider fan Kellie Smith.
    "I've heard one guy say they should bring a case of Pilsner into the huddle, and whoever doesn't have a beer leaves the field," laughs Saskatchewan raised Shawn Solberg, who's even incorporated the Rider's signature 'S' into his landscaping company's logo.
    "Even in Alberta, there are a lot of people who's blood runs green," says Smith.
    Solberg's detached garage is a shrine of Rider Pride, with the customary green flags hanging above a signed Grey Cup legends poster from the 1996 game, along with all sorts of collectibles.
    Sitting on his garage shelf is a Roger Aldag bobblehead, who played for Saskatchewan from 1976-92, stained with a drink Aldag spilled himself while watching a Grey Cup match with Solberg.
    Common items like green hardhats and flags decorate his Riders' den, along with some fanatical items like official Saskatchewan Roughriders anti-freeze.
    "I got the bug long ago," says Solberg.
    Larry Wasmann, owner of Tug's Cards and Comics in Drumheller, says Roughriders memorabilia outsells all other seven team's gear by far.
    "They outsell everything else combined, it's not even close," says Wasmann. "The fans will wear their colours– if you're a Riders fan, you wear green. It's as simple as that."
    Internet stories have even reported Roughrider gear outselling Stamps gear at the official Stampeder's store at McMahon Stadium.
    A loonie commemorating the Rider's centennial even showed up in people's change this year.
    "It's just insane," says Wasmann.
    Estimates of just exactly how many Rider fans there are range anywhere from 5-7 million people across Canada, representing roughly one in five Canadians.
    Record attendance for a Roughriders' game came in 1995 in a win over the Stampeders as 55,438 (more than 25 per cent of Regina's population) looked on.