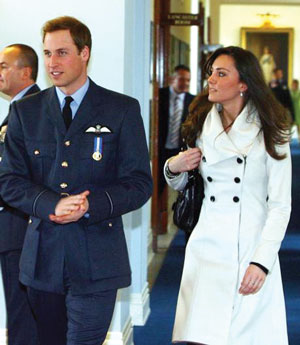 Memories of the beloved Princess Diana are arising in Drumheller's British as her son Prince William announced his engagement to long-time girlfriend Kate Middleton on Tuesday, November 16.

    Jerry and Melony Brett attended the fireworks celebration at Hyde Park in London on the eve of Diana and Charles' wedding in 1981 – wedding themselves the following September. They immigrated to Canada six days after their wedding ceremony.
    "That brings back a lot of memories," said Melony. "We were right there. I'd say London is just buzzing with excitement, like it was then."
    Globally, over 750 million people tuned their TV sets to the wedding at St. Paul's Cathedral on July 29.
    "I hope this one will be as memorable and not end as tragically," said Jerry, recalling the motorcade accident which claimed the Princess of Wales' life in 1997.
    "Everyone loves a wedding," says Denise Simon, who immigrated to Canada in 1993. "Being English, I can moan about them... but I do love the pomp and circumstance, and I think that's what a lot of English people like."
    "And obviously his mother was very well thought of."
    Many observers see qualities of Princess Diana in William, the eldest of the two sons she left behind. Both William, 28, and Harry, 26, use their status to further humanitarian efforts Diana was so famous for. William is second in line for the throne, following his father Prince Charles.
    "I think he's very much like her in many ways. He's a people person who doesn't have that standoffish 'I'm royalty,  look at me' sort of thing," said Simmons.
    William even proposed to Middleton, 28, with what was Diana's engagement ring, a royally sized sapphire and diamond beauty.
    William and Middleton had announced they plan to wed in the coming spring.
    "It's a good distraction. People get into the party mood, so it becomes  a national celebration in Britain and it should be a celebration throughout the Commonwealth," said Jerry Brett.
    "It may be his head on our coins."
    "Everyone loves a wedding, doesn't matter who it is," said Simon. "It'll give everyone a lift, not only in Britain, but the world over."
    A lift may be exactly what the United Kingdom needs, as they face a huge deficit and the possibility of a increase to their 17.5 per cent VAT point of sale tax.
    Ex-Pat Kathryn Chambers' cousin Teresa Chambers, who still lives in Wales, said over e-mail Wednesday, "Just when the country is drowning in national debt, let's have a really expensive royal wedding. I'll just leave my purse open to make it easier, shall I?"
    It has been reported Prince Charles will pick up the wedding bill, but the nation will be stuck with a million pound security budget for the wedding which is sure to draw millions of onlookers.
    Whether or not a glamorous wedding is where England's priorities should be, Brits in Drumheller will be joined by millions more watching the extravagant occasion.