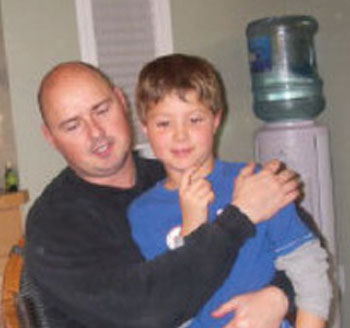 Drumheller, as a community, is coming together to support the Charmont family in this time of tragedy.

    Chris Charmont and his nine-year old son John died in an explosion at a hotel resort in Mexico early Sunday morning. Support for the family has been forthcoming from family, friends, classmates and co-workers for his wife Terra and daughter Megan.
    The two were among five Canadians killed in a blast at the Grand Riviera Princess Hotel in Playa del Carmen. Two Mexican workers were also killed in the explosion. It is believed the explosion was caused by an accumulation of gas from decomposing organic material in a nearby swamp.
    Jay Garbutt, a friend of the family, said the initial reports came over Facebook, and those following waited in intrepidation as the preliminary reports were that the two were missing.
    "I understand it took most of the day to inform her of the outcome, so I can only imagine the horror she (Terra) was going through," he said.
    He said many in the community will feel the loss.
    "They are the most amazing family, and you couldn't ask for better friends. Chris would give the shirt off his back without even hesitating.  Chris was the kind of person with characteristics I admire, not the least of which was his complete integrity. He was a very principled man, and a very devoted family man," said Garbutt.
    The family has been involved in minor hockey in Drumheller. John played on the Atom Encana Raptors, and Chris was a manager for the team. Paul Salvatore is a coach on that team and the families have been playing together for the last three years.
    "There has been just a tremendous show of support from the community. All those who know the Charmonts have been very supportive," said Salvatore. "The team obviously is quite devastated by the announcement, and it is really hard to believe that we would be experiencing something like this."
    "They are quite frankly an incredible family, and a model family. If all we did is look at them as the model, we'd all be doing very good in our lives."
    John attended Greentree School and was in a Grade 3-4 split class. Principal Chris Connell said the school has brought in a crisis team with counsellors and a psychologist to help students and teachers.
    "This being a close knit community… a lot of kids knew him from class or playing hockey with him," said Connell. "Our plan is to send some things home with kids for parents on how to talk with your kids about dealing with death and with grief," said Connell.
    St. Anthony's School is also bringing in a support worker, Amber Channell, to talk with Grade 4 and 5 students.
    Chris has been employed with Encana Natural Gas since 1997, as an instrument mechanic.
    "All of us at Encana are shocked and extremely saddened by the tragic event that took the life of Chris and his son in Mexico. Our thoughts and prayers are with his family in this extremely difficult time," said Encana vice president media relations Alan Boras.
    According to Boras, Chris is described by his peers as exceedingly knowledgeable and was a relentless worker, not stopping until the job was done right. Through the company's employee assistance program Encana is offering support including grief counselling, to the family and co-workers to get through this difficult time.
    Linda Lacher, president of Drumheller Minor Hockey said Chris and John are going to be missed.
    "It is going to be very difficult for the team. He (Chris) was a very structured guy who kept things going really well for his team," said Lacher.
    Lacher adds they have been receiving messages of condolences from other minor hockey associations.
    Minor hockey is looking at how they can support the team through this tragedy, including looking for counselling. They are working on getting a patch made for the team to wear this season in memory of their teammate John and retiring his jersey.