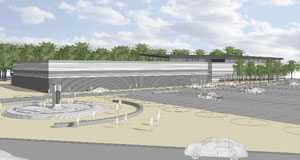 Drumheller is just days away from breaking ground on the next chapter of its history, the building of the Badlands Community Facility.
    A groundbreaking ceremony is planned for Monday, July 19 at 11 a.m. at the site. The public is invited to witness the occasion.
    "Council is excited to see this project move forward as it provides additional cultural and recreational opportunities for our residents. This facility will provide a lot of advantages to our community and a lot of benefits to the surrounding communities in the Canadian Badlands," said Mayor Bryce Nimmo. "We thank our citizens and our neighbours in the surrounding communities for their encouragement for this project. "
    The Badlands Community Facility's initial phase will include a field house, running track, fitness centre, meeting facilities and new public library.
    Leading up to this moment, the town, and Graham Edmunds Cartier Architecture, with committees involving planning, designing and fundraising have been working diligently to be ready for this day. Last fall site preparations were completed. On June 21, Dawson Wallace Construction Ltd. was awarded the contract to build the facility, and on July 8, the Town of Drumheller administration held a pre-construction meeting with Graham Edmunds Cartier Architecture and Dawson Wallace Construction to review the construction process, timelines and roles and responsibilities.
    "Dawson Wallace Construction is currently mobilizing their staff and subcontractors. They will be meeting and advising the subcontractors, securing and ordering materials, and organizing utilities in order to start the project," said Ray Romanetz, CAO of the Town of Drumheller. "Residents will notice increased activity by mid July."
    The project has come a long way since a small group took up the challenge to make a community facility a reality.
    "Our committee started out as a grass-roots organization of eager citizens. We have seen this project grow from a few people to a community wide initiative and we are so happy to see the shovel hit the ground," said Tony Lacher, co-chair of the steering committee. "It is truly gratifying when community citizens work together for a common goal that benefits the community and the region."
    Members of the community are invited to attend the groundbreaking. The ceremony will include comments from elected officials, steering committee representatives, and other partners in the project.
    As part of the groundbreaking celebration, residents are invited to celebrate and stay for a hot dog barbecue courtesy of the Badlands Facility Steering Committee.