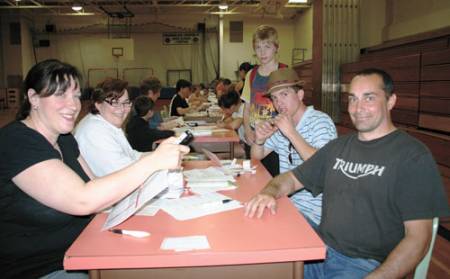 Drumheller Composite High School (DCHS) students had a very ambitious target: to get 400 people to come to the school and have their cheek swabbed for a stem cell donation on Wednesday, June 23 within a four-hour period.
    The idea of the stem cell drive came from Mrs. Dart. When DCHS students found out the rare blood disease she had suffered from had come back, they asked how they could help. As a stem cell transplant had saved her life in June 2007, Mrs. Dart suggested this drive and felt a target of 100 would be reasonable.
    Mr. LaPierre and the students decided that 400 was the target they should aim for.
    And they are nearly there!
    At the time of going to press, Hailu Mulatu, coordinator for the drive from OneMatch Canadian Blood Services, told inSide Drumheller they had 309 people attending the drive and 63 had registered online.
    "The Drumheller community has shown these patients [on the registry awaiting donors] very huge support and they have given a very clear indication how caring the community is," said Mulatu.
    "On behalf of the Canadian Blood Services OneMatch Stem Cell and Marrow Network and the patients we serve, I would like to thank and express my gratitude to the community of Drumheller."
    Mrs. Dart told inSide Drumheller, "I am excited, but I am determined to reach 400. I am not stopping until we reach our target!"
    "I really didn't have any doubt," said Mr LaPierre about reaching their target. "The 400 number came from me and talking with the Grade 7 team who were volunteering here. And I said, 'You know, this sounds like a good number, and it may not be possible, but at the same token, I think it is. If everybody does their little part, it happens very easily.' And sure enough, this is exactly what happened."
    People who were not able to attend the drive can still register online. To keep track of the numbers, Mrs. Dart is asking for people to let her know when they register online by emailing her at
sandbdart@yahoo.ca.
    To register online, visit www.onematch.ca.