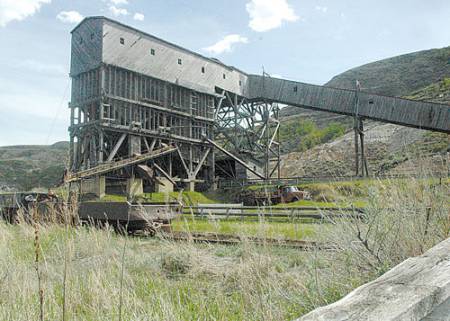 Expert engineers from the Vancouver-based Macdonald and Lawrence Timber Framing Ltd. were onsite at the Atlas Coal Mine in East Coulee recently to assess the timber condition on its tipple.
    Last year, rot was found around some of the wood joints and this gave Linda Digby, executive director of the Atlas Coal Mine, concern. The affected part is supported by metal scaffolding so her concern wasn't for public safety. She explained to The Weekender her concern was focussed on the longevity of the framework as this tipple is the last one in Canada that allows people to climb.
    After an engineer's assessment, the museum applied for funding and received help from both the provincial and federal governments.
    "We are very lucky, we have all the expertise from Alberta Historical Resources and Parks of Canada Historic Site to help us direct this project," said Digby.
    The Mine received a few bids from contractors but Macdonald and Lawrence, whom they found through the Timber Framers Guild, impressed them most with their level of expertise, their portfolio and the quality of their equipment.
    "These guys have done historic preservation all over the globe, for instance in Antarctica with the conservation and restoration of Sir Ernest Shackleton's Nimrod Hut. They have also done work on Buckingham Palace, and their resume includes a letter of thanks from the Queen!" she said.
    "It takes a particular kind of expertise to do work on our site, we need a high level of contractor who understands historic restoration and who just has to know how to deal with challenges such as working at heights and with limited access. They also need to be sensitive to the fact that this is a museum and therefore there will be people around. And of course they must have the right trade skills. Macdonald and Lawrence had by far the most compelling package."
    Engineers came to the site to gather intelligence on the timber. Using specialized machinery, they drilled core samples from the timber to make a profile of its condition, which will help them determine which to replace.
    The work is expected to start in July for a period of three weeks, during which time the tipple tours will not be available to the public.
    The team will then return in September to spend the month finishing the project.