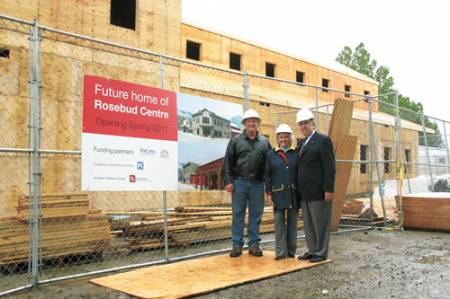 Rural roots run deep in Alberta, just ask Dick and Lois Haskayne.
    With a $100,000 commitment to the new Rosebud Theatre expansion project in Rosebud, the noted Calgary philanthropists are thrilled to be investing in the future of a community where they have roots.
    Lois Haskayne (nee Kenney) grew up west of Rosebud in the hamlet of Redland, and has fond memories of church, school, families and community events in Rosebud. A little further south in the Town of Gleichen, Dick Haskayne honed his business basics working in his father's butcher shop.
    Throughout their lives, the Haskaynes have supported arts and education initiatives.
    "The arts, music, drama, poetry, dance and prose are food for the soul," said Lois. "Without it, we become a society searching for the meaning of our lives and never finding it. Rosebud School of the Arts provides this food for all who care, support and participate. We are proud to be a part of this wonderful school."
    Rosebud Centre is a 10,000 square foot dining, shopping and meeting/convention space expansion to the current Mercantile Dining Room. The architectural design of an old-time bank and livery stable is in keeping with the living heritage values of Rosebud. The facility will be an integral part of Rosebud's renowned dining and theatre experience, the revenues of which help support the education and training of theatre artists from across Canada.
    According to executive director of Rosebud Theatre Bob Davis, the total cost of the project is $5 million, of which just more than $4 million has been raised.
    "We've set a goal to raise the remaining $1 million by the end of 2011. This announcement is a big step towards reaching that goal," said Davis.
    As an impetus for others who share their passion for rural community development, the arts, and education, the Haskayne pledge is designed as a matching gift. For every privately donated dollar donated to the project, the amount will be matched, (or doubled) up to $100,000.
    For more information on how to make a pledge or support Rosebud, contact Davis at 403-677-2350 or at bobd@rosebudtheatre.com.