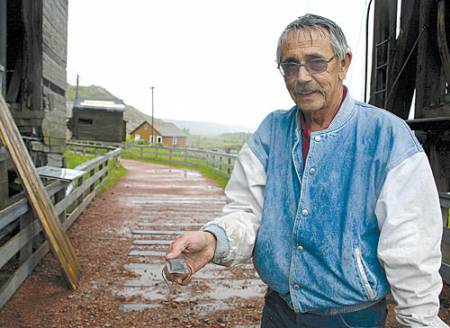 The East Coulee Atlas Coal Mine appears to be a mine of artifacts as items are still being unearthed.
    Recently, Bob Moffatt, who used to be a pony driver in the mines, found a device called a 'railway torpedo' at the site.
    "We had no idea that they even existed or were used onsite," said executive director Linda Dibgy.
    Moffatt found the device at the mine and knew straight away what he had found.
    "When I was young, I worked on section gang, maintaining and repairing track," he said. "All of a sudden, when I was checking out the new track, I saw this device and thought 'My god, this looks like a torpedo'. I was wondering if it was even the right name for it as it is close to 60 years since I last saw one."
    He explained to The Weekender that those devices were used to warn train engineers of possible danger ahead.
    Strapped on top of the rail track, the torpedo would explode with a loud bang and a flash when the wheel of the train would pass over it, giving a warning to train engineers to be cautious of workers or an accident on the track.
    "We used them when we were working on tracks so it would alert the train drivers we were there. There were flags too, but they weren't always seen or they might have flown off," explained Moffatt.
    He was puzzled to have found one on the site.
    "The question was 'Why would they have that here?'. As I looked the tipple over more and more, I realized they were probably backing carts into that area and if the engineer was alone when it went off then he would know he went back far enough. This is the only reason I can think for them to be there."
    The torpedoes provided lots of fun, and some trouble, for children in those days as they tried to make them explode, although they were considered highly dangerous.
    Last week, Moffatt found another item of interest at the mine, a metal sprag, used to brake coal carts.
    "It's amazing what comes uncovered down there as time goes by," he said. "As a matter of fact I made some wooden sprags for them which were used to brake the coal carts. I had said one of these days I would make them some metal sprags. And we only just found one of those right at the top of the gantry!"
    Again, Moffatt was puzzled to find one as he explained they didn't take carts up there.  However, he recalls those devices were kept hidden so no-one would steal them, which could explain the unusual location in which it was found it was found.
  Used as braking devices, a driver at the front of pony-pulled carts would use them to help brake when going downhill by placing them in the spokes of the wheels to stop the wheels from turning.
  "Wooden ones occasionally would break so you had no brakes anymore. These metal ones would not break. However if you had a flat spot on a wheel, it started to bounce back and forth and would fall out."
  Moffatt estimates the sprag found to be about 50 years old.