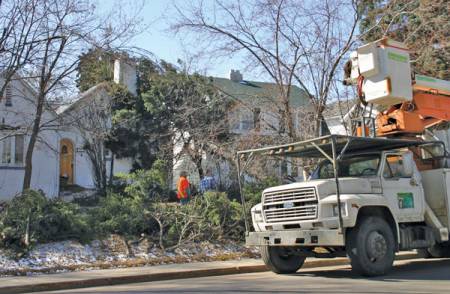 Gails of wind, snow and rain blasted the region in the early evening on Thursday, April 8, causing chaos on highways as well as region-wide power outages.
    A wind warning was issued by Environment Canada on Thursday, advising of rain changing to snow and blowing snow, ending near midnight with a snowfall amount of 5 cm with wind gusting to 80 km/h.
    Nick Gelych, Southeast Regional Manager at ATCO Electric, told The Mail they started receiving calls from customers at around 8 p.m.
    "The storm affected a large area of east and central Alberta with regards to our service territory. The high winds, rain, snow and icing conditions caused quite a few of the higher voltage transmissions system power outages, which in turn affected the distribution of power to smaller communities." Gelych explained. 
    It took just over two hours to restore the power for Drumheller on Thursday evening and ATCO was still dealing with power outages within the region on Friday as the storm had moved to central Alberta.
    Al Kendrick, director of Infrastructure for the Town of Drumheller told The Mail the town's emergency equipment worked well, despite a glitch with one of their communication equipment generators failing.
    Friday was busy spent tidying up the debris and replacing the many road signs which had blown away. 
There was report of a decorative light falling, causing no known damages.
    "We were pretty lucky considering the gust of winds," commented Kendrick.
    A few properties in Drumheller suffered damages from falling trees with no known injuries.
    Extremely poor road conditions and zero visibility caused numerous collisions on highways across the southern region, forcing road closures.
    The RCMP reported road closures on the QE2, northbound and southbound  in the area between Carstairs and Olds overpass, QE2 southbound lanes north of Highway 53 and Highway 1 eastbound at Strathmore.  
According to an RCMP media release, approximately 54 vehicles were involved in a single collision near the Olds overpass, forcing many travellers to seek overnight refuge in Olds, its college being open to provide accommodation.
    Local businessman Fred Makowecki went to  the  Wildrose Alliance fundraiser in Delia on Thursday evening, an event attended by over 100 people who found themselves stranded when the wind storm started.
    Makowecki told The Mail that most of the people waited for the wind to calm down before making their way home.
    "We were probably the last ones to leave, we left about quarter after three in the morning," he said, adding "I have lived in Southern Alberta for 31 years and that's probably the worst I have ever seen."