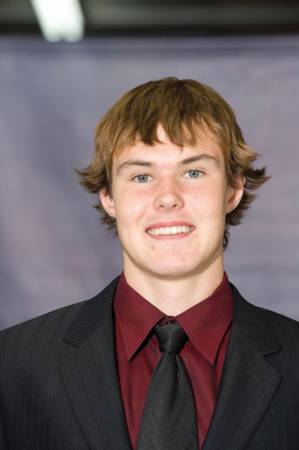 Justin Tateson, first year Drumheller Dragon, has been named to the AJHL All Rookie Team.
    The 18-year-old defenseman has made an immediate impact on the Drumheller Dragons and has a bright future.
    Coach Dan Price is not surprised Tateson was selected.
    "We're really happy for him," said Price. "He worked really hard."
    It has been an exciting year for the Scandia area rookie. He finished last season playing for the Medicine Hat Big Country Energy Services Tigers in the Alberta Midget Hockey League and was named the league's Most Outstanding Defenseman. In his first year in the AJHL, he was selected to the league's South Divisional star team.
    "He is extremely steady both ways. He can move the puck, he can release it from the blue line, and he has a great first pass," is how Price describes his game. "He is great defensively obviously, he uses his stick and his size well, and he is great in the dressing room. He is a complete package."
This season the 6-foot-3, 190-pound defenseman also committed to the Division 1 NCAA University of Alaska Fairbanks to play and pursue his education. The Dragons are lucky to have him for one more season, before he heads to college.
    Last season, Tateson played 56 games for the Dragons, had two goals and nine assists, for 11 points, with 101 PIM.