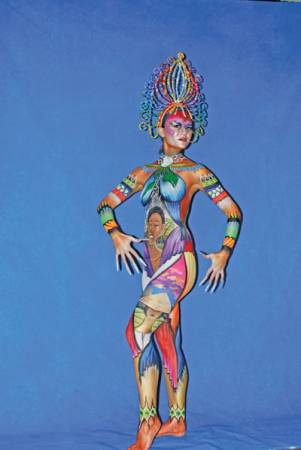 While most people were thinking of ways to impress their significant other during the Valentine's Day weekend, Drumheller resident, Lucie Brouillard, was busy painting (near) naked bodies in Vegas.
    Using sponge and brush techniques, she spent 6 hours on both Saturday and Sunday painting her visions on two themes, first on "Around the World" and then "Evolution" on models at the first ever North America Body Painting Championship, where body painters from all over the world competed in two categories: Sponge/Brush and Airbrush.
    Using the "classic" style, industry term for sponge /brush painting, and her interpretation of the themes, she won  first prize, making it her 13th prize at top body painting competitions.
    Lucie fell into body painting by chance over 20 years ago.  
    Back from a year in Europe after getting her BA in Fine Arts in Quebec, where she originates from, Lucie was looking for a way to make a living. 
    As she had a keen interest in theatre makeup, a friend suggested she borrow her crayons and face paint at the Montreal Jazz Festival to earn herself some money. 
    The suggestion paid off.  Lucie then took her skills to Europe, where she lived in Holland for 10 years and face/body painted across Europe and the world, before returning to Canada and settling in Calgary. 
    Two and half years ago, she and her family decided to move to Drumheller to provide their children a safer environment  as well as for real estate opportunities.
    She now body and face paints at corporate events and teaches the art at conventions.
    In 2007, motivated by a desire to find out where she ranked "just for fun", Lucie decided to enter the biggest championship she could find and tried out at the Seeboden World Championships in Austria.
        At this first attempt, she won third prize in the Body Painting Brush and Sponge category and 2nd place in Face-Painting. 
    Since then, Lucie has won many trophies in Canadian, American and World Body and Face Painting championships and is currently the World Face Painting Champion.
    What she found she liked about body painting 20 years ago is what still motivates her today: the people she works with.
    "You make them nice and it's almost therapy for both, because you exchange good vibes. If I work a lot, say a busy day of 8 hours straight, my body will be very tired but not my mind, and my heart will be nice and happy because the experience has been good, you have been told that you are good, you make people feel good. I don't think there's a job that makes you feel nicer. All in all, it's a nice circle of people, we all deal with very gentle people, it's a small but nice community."     
As well as enjoying the connection with people, her favourite part is still doing face painting on children, especially more so now she has two of her own, Alex, three and a half, (aka "The Tank"), and Charlotte, who is about to turn five.
    "Now that I have my own kids, I see even more the pleasure on their faces when I paint them and they become a creature, they light up.  It's the nicest gift I can give that makes me feel so good. It's the same for adults, they get the feeling of fantasy or escape."
    Those competitions give her the platform to express herself as a storyteller as well as an artist.
    Lucie claims the secret for a good body painting at competitions is "to be so ready, know your story, know your drawing months ahead of time and, using your own body painting, paint on paper and test how everything will work together. Don't leave anything to coincidence or improvisation as this is when you make mistakes."
    She also believes her success is due to her secret tool: her stories,  "I am an okay painter, but I think it is the fact that I'm convinced and I try to paint something that is meaningful. It's my way of expressing my political views, things I disagree with, things I love. I like to tell a story almost like an essay but with painting, with a beginning, a middle and it has to have a conclusion."
    Her secret tool seemed to have come up trumps at the latest competition she entered.
    The theme she worked on during the first day of the competition was "Around the World", a theme she found very touching.
    Through her painting, she chose to showcase "Four women who could never dream of attending such an event because of old age or cultural or religious obstacles, one of the women (from Haiti) was in tears as she had lost everything."
    The women were visible below painted drapes, which Lucie explains was something that had never been done before. 
    Once the painting was complete, Lucie told her story: "My opening line was 'let's take a peek through the curtains of the world, and look at those women and thank them as women are the ones who keep the world going around, they pick up pieces after wars, carry babies...they are beautiful, anonymous, hard working queens', that was a sort of tribute to women around the world."
    Lucie received 992 points out of 1000 for this interpretation of the theme.
    This was also her proudest achievement, she calls the piece "near perfect."
    She depicted another powerful story on day two based on "Evolution".
    "I chose to talk about evolution as life on earth, I went from the big bang and mountains emerging, vegetation and all kind of animals coming and evolving from insects to fish, to birds, to mammals.
    Then around the belly was a drastic line, with buildings, us, civilization, and I said 'Here we are, we are the new kids on the block, we are only a few thousand years old and we are destroying everything, we are stopping this evolution'."
    At the top of the buildings, a naked man is climbing and choking the neck of the model with a rope.
    On the face of the model, Lucie had painted Mother Earth. 
    On the back, a tornado could be seen, with its base coming from the lower back, a woman trying to get out of the tornado, with the buildings from the front falling into it.
Those two representations put Lucie well ahead of the competition and won her first prize in the Brush and Sponge category.
    The Airbrush category was won by another Canadian, Alexander Hansen.
    Lucie's ambition this year is to win the Body Painting World Champion title in Sponge and Brush, having attended third three years running.