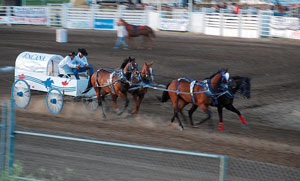 Drumheller Chuckwagon fans will have to dust off their boots a little earlier this summer as the Badlands Dinosaur Derby is coming on Father's Day.
    The Dinosaur Derby is the flagship event of the Drumheller Stampede and Ag Society, and after a long history of a mid summer schedule it will be running on June 18, 19 and 20 this year. According to Ag Society president Larry Duxbury, because of scheduling conflicts, the Dino Derby was forced to run on the Father's Day weekend.
    "It could be a blessing in disguise," said Duxbury. It may prove to be a popular weekend, especially for those looking to spend time with dad on his special day. It also becomes the third event in the WPCA (World Professional Chuckwagon Association) schedule.
    The scheduling will make it an exciting week at Dinosaur Downs because the very next weekend, the 2nd Annual Tractor Pull and Agricultural tradeshow will be in full swing.
    Duxbury says the Ag Society rescheduled the tractor pull because a June date fits better into the schedule of the agricultural community. The Ag Society is looking at making it a full blown stampede week,  by tying the two events together.
     To get ready for the Dino Derby, the annual Canvas Auction is set for Tuesday, April 6.  Once again, Drumheller will be part of the auction, and local bidders will be able to head to the Stampede Barn to cover their favourite drivers' wagons. There will be food and drinks at the event, as well as some of the top chuckwagon drivers in the province.
    Not only is it a chance to show your support for the event, but to meet some of the drivers on the track, and potentially  on the podium.
    Another bonus for bidders is that anyone who purchases a tarp, will have their name entered into a draw for tickets to wherever WestJet flies. WestJet will also have a presence at the Badlands Dinosaur Derby, with more tickets up for grabs.
    Again, this year, there are a number of ways to bid on a tarp for the Dinosaur Derby. While the Satellite Auction begins on April 6 at 5 p.m., those wanting to get a jump on bidding can register at www.wpca.com for a bid number and place your pledge on a tarp. The online bidding closes 24 hours before the live action begins.
    The Ag Society is in the process of sending out sponsorship packages to previous bidders. For more information, or to receive a bidding package, contact the Drumheller Stampede and Ag Society at 403-823-9339, or e-mail drum_ag @telus.net.