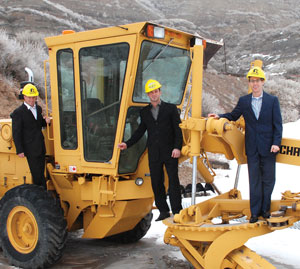 A challenge issued by Tony Pliva and his family has inspired some residents to generously support the community facility project.
     inSide Drumheller reported, in its February 5 edition, that Tony Pliva and family committed $25,000 to the Badlands Community Facility.  He challenged others in the community who felt strongly about the need for such a facility in the valley to also pledge. 
    This week, Drumheller businessmen Gary Chambers, Bob Sheddy and Braden Bosch have each matched the Pliva donation, bringing it up to a $100,000 total.
    Sheddy said in conversation with Pliva over lunch, he learned of Pliva's donation and challenge.
    "Tony just said he felt it was the right thing to do. The next thing I knew, the story with the photo of Tony Pliva and his family were in the next edition of inSide Drumheller and online at DrumhellerMail.com," said Sheddy.  "Every time I opened the newspaper or went online that week, I was more and more convinced I should do the same.  I admit that Tony's $25,000 donation put my original donation value to shame, and made me reconsider how much I could give to a facility that will be in my town for the rest of my life. In those terms, $25,000 is a reasonable amount to give."
    "Drumheller is where I live, and it is where my clients live. As my dad keeps telling me, it's our generation's turn," adds Sheddy.
    He was convinced, and quickly contacted Chambers and Bosch, and they signed on immediately.
    For Chambers, he says the facility is needed for the community, and makes sense in both his personal life and professional life as a realtor.    
    "As I tour clients around Drumheller, one concern these prospective new residents often lament about is the lack of a community / recreation center.  A community center is much more than a physical structure, it is a testimonial to civic pride in a community," he said.  "Both my wife and I … know first hand how a facility, such as the one under construction, will contribute to an enhanced quality of life amongst Drumheller's residents.  I have played hockey in the Drumheller Arena all my life, and my wife swims and works at the Drumheller Aquaplex. We use the current facilities, but are excited by the prospect of being able to enjoy our favorite recreational pursuits in one convenient location. 
    This donation is our way of supporting active living for the residents and visitors of Drumheller."
    While his roots aren't as deep in the valley, Bosch recognizes the importance of recreation facilities.
    "Coming from Hanna, I can truly appreciate the benefits of having a community facility in town," said Bosch. "For the past three years I have been planting my roots in Drumheller and am very excited about the addition of this facility to our community."
      "In 2007, Ray Page and Ron Poole trusted me to look after their clients and take over their insurance business formerly known as Page Agencies. I believe our customers and their families deserve to live in a town with a great facility they can enjoy for years to come," said Bosch.
     For more information, or to donate to the Badlands Community Facility, contact fundraising committee chair Jeff Hall at 403-823-7800.