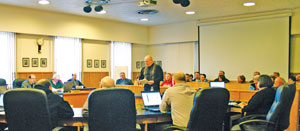 Town council is putting together a task force to re-examine options for parking downtown.
    This comes after a lively town council meeting, where around 25 worried merchants and residents made their views known, represented by David Benci.
    The motion, put forward by Councillor Karen Bertamini said, "that council appoints a task force to review parking options on a portion of 3rd Avenue between 2nd Street West and 1st Street East.  The task force to consist of two councillors, two members of the Drumheller and District Chamber, two members of the downtown committee and two members of the public at large, those two members will be chosen by that task force.  The task force is to report back to  council with recommendations on how they would like to move forward to the regular scheduled committee meeting of the Whole on April 12."
    The motion was carried unanimously.
    David Benci, owner of Pizza 249, made the presentation to Council and said to The Mail: "Personally I was disappointed with the meeting, the motion that was put forward wasn't what I had proposed.  I asked if they had any answers to our questions and they didn't answer any. The primary objective is to rescind parallel parking which they did not do, as a matter of fact they postponed another motion that was going to put a moratorium on it for a year and so, in my opinion, it was a waste of time."
    Benci said he would not be part of the task force.
    Councillor Sharel Shoff's notice of motion was "to delay the implementation of parallel parking for one year, while the town complete the offsite parking sites, evaluate the effectiveness of offsite parking and facilitate communication with the citizens at large."
    This motion may be moved at a later time.
    The Mayor will announce their members of the task force within the next week and asked that the Chamber and the Downtown association select their members as soon as possible.  The town will advertise for applications from members of the public interested in being part of the task force.
See Friday's edition of inSide Drumheller for the full report.