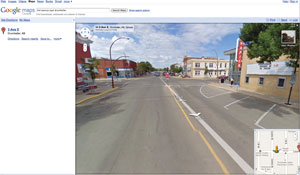 To access Drumheller on Street View, to go maps.google.ca, enter Drumheller in "Search Maps", zoom in to the area then drag and drop the orange figure found above the zoom bar on the left hand side of the map section.
  "Really cool technology and will provide a unique opportunity to showcase Drumheller!" said Heather Bitz, general manager at the Chamber of Commerce when inSide Drumheller announced to her Drumheller is now featured in Google Street View.
    Really cool technology indeed: Street View is an addition to Google Maps or Google Earth which enables a 360° horizontal and 290° vertical panoramic street level view of an area. People can now access Drumheller from a computer or a mobile device in Google Maps and navigate through the area as if they are walking or driving.
    To do this, they need to  find the street they want to see from Google Maps, zoom in on the street as close as they want, drag and drop a little orange man, (Google called him Pegman), on the area, and it's like they are there, right in front of their house (this IS the first place people think to look up!).
    The photos Google took of Drumheller were taken at the end of spring 2009 when the landscape was lush and green.
    At that time, construction on the Gordon Taylor Bridge was in progress so were the road and sidewalk repairs in the east part of downtown.    
    Street View users can easily lose hours navigating through the streets of Drumheller, especially when they realize they might be able to go to places they have wanted to see - the house they grew up in maybe?
    So how did Google do it? Well, they used one of their "Street View" cars, Wikipedia lists the makes/model in each country, and sometimes Google Trikes (tricycles) or a snowmobile are used.
    The vehicle drives around each street taking pictures every 10 or 20 metres, with a nine directional camera which gives 360° views.
    Weeks and sometimes months are spent putting the photos together to give 360° horizontal and 290° vertical panoramic street level views within Google Maps. They also apply face blurring technology, so people can't be identified and license plates are blurred.
    Google has mapped from the west end of Newcastle Trail, and the Drumheller Heath Centre on North Dinosaur Trail, east to Deer Valley Implements on Highway 10. A small section in Rosedale has also been mapped.
    South to north, Highway 9 South to Highway 9 North.
      If people want their area to be covered, they can let Google know and submit a request, they do warn they are dealing with a lot of requests so it may take time.
    On the other hand, if people are not happy with any pictures that show their property, vehicle, or their family, they can ask for them to be removed. To do this, they need to get to the photo they have concerns with, click on "Report a problem" located at the bottom-left of the image window, complete a form and click submit.
    Since starting the Street View project in 2007, Google has covered many countries and here are some of their ideas on how this can be used:
Explore parts of the world they've always wanted to visit - see famous sights such as the Big Ben, Sydney Opera House, Times Square, Eiffel Tower, Colosseum, and much more.
When people are on the go, they can use their mobile device to see what  their transit stop looks like. If they look up directions, they can also see Street View images for every step along the way.
Check parking availability. Are there lots nearby? Check in advance if a building provides easy access and wheelchair ramps for disabled persons.
Preview vacation accommodation.
    Google tells of various ways this tool can be used for business purposes:
Real estate agents and brokers can show prospective buyers or tenants available properties. Better yet, embed Street View images easily in their site with the Maps API.
Journalists can embed Street View images on their websites to show the location of news events. For example, The New York Times embedded a Street View image to show the location of an earthquake in Italy.
Promote a business by showing them the building facade, nearby amenities, landmarks and lesser-known attractions.
Conduct virtual field trips. Schools can incorporate Street View on both Google Maps and Google Earth into geography and history lessons.
    On closer investigation of the shots, there are clues that the Street View vehicle went around Drumheller during the last week in June and some might have seen it. We ask readers to let us know if they can estimate when the Street View vehicle came through Drumheller.