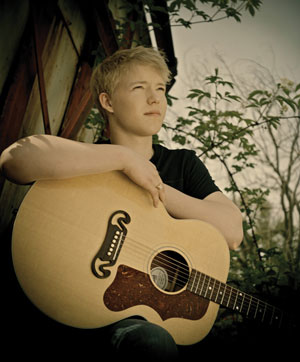 In Jaydee Bixby's own words, it is going to be a party when his road show hits the Stampede Barn this weekend.
    Drumheller's own country crooner is set to play in Drumheller Saturday night, February 6. The show is hosted by the Kinsmen Club of Drumheller and is a fundraiser for its ongoing activities for the community. Moreover, it is a homecoming for the singer who first graced the national stage at 17 during season five of the Canadian Idol competition, and has never looked back.
    "It's going to be good to be back, to have the opportunity to look into the audience and see people I grew up with and familiar faces," he said. "We've been doing a lot of shows where we have never been before. It's cool to do those shows, but it is always nice to see people you grew up with, and we have the opportunity to see them doing what they love, and they see you doing what you love."
    Now 19, it seems a lifetime has passed as the blond kid with a twinkle in his eye won judges and fan approval. Since then, he has released Cowboys and Cadillac's, appeared on a Christmas album beside artists such as Prairie Oyster and Taylor Swift, toured extensively and is ready to drop another album tentatively this spring.
    The twinkle in his eye has never left, but along the way, he picked up a strong work ethic.
    "Road work is the best kind of work. To be out on the road is the reason we make an album," he said. "We try to do as much road work as possible. Leading into 2010, we are hoping to spend the whole year on the road if we can. We are going to have to go back because we are recording a new album, but everything is just going smooth."
     As if he isn't busy enough, he has been working hard on this sophomore effort called Easy to Love.
    "You spend so much time on the road and travelling, and you get a few days off… you get antsy, it's the most boring thing sitting at home," he laughs, adding the luster of road life has not worn off.
    "The day this becomes a grind is the day I find a new job."
    Jaydee tells The Mail from Jasper during his nine-date tour, the Drumheller show will be special. Not only does the bill include rising star Stacy McKitrick of Abbotsford, but the Bixby's, his parents' band are also on the bill.
    "My parents are playing with me and they are opening the show," said Bixby. "It's always special when my parents are there. It's not going to be anything super formal, like following a set list, it is going to be doing whatever we feel like doing."
    This includes a few previews of his new album.
    "We're going to be spending the whole night, and I have some friends coming down as well… It's going to be a party."
    Tickets are available at Drumheller Chrysler, Sunrise Auto, Western GM Drumheller, Anderson Drug and UFA Drumheller. This is a licensed function.