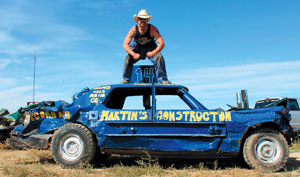 The Drumheller and District Agriculture Society has a full slate of events planned this season including more racing.
    The society held its Annual General Meeting on January 12. The society is planning  to attain International Motor Contest Association (IMCA) certification in its racing track. This means the society may be hosting four high profile racing events.
    Duxbury, who was installed as president of the Ag Society at the meeting, says the IMCA is an international sanctioning body, and in Drumheller, they will have two classes of racing.
    "We will have our hobby stock cars as an entry level racing, and then we'll have the IMCA stack cars and the IMCA modified Stock car classes," said Duxbury. "We do have a couple local racers with IMCA modified cars, and we do have a couple with IMCA stock cars."
    The society also has a commitment from the Alberta Outlaw Modified Racing Association for an event.
    The Ag Society had a successful 2009 season. It hosted a number of events including the Dinosaur Derby. Despite a rainout, the society was able to keep the demo derby tradition alive with a one-day event. This year also saw the introduction of the Tractor Pull and Trade Show.
    They have established a relationship with Drumheller Gymnastics and hope to build on hat partnership in the future.
    Despite these successes, Duxbury says the Ag Society did find itself in the red. The major reason was the lack of revenue through sponsorship at the Dino Derby, as well as capital investments on the facility. The Stampede Barn last year received a freshening up with a coat of paint, improvements to the kitchen, plumbing work, and major work on the track and barn areas was completed.
    He is confident the society will be able to pull ahead financially this year. As it was a more active Agriculture Society, its annual bursary will be increased. The society has also been able to secure a casino.
     At the AGM, Larry Duxbury has succeeded Gerry McLean as president of the Ag Society while Mike Hansen is first vice president, Gord MacKinnon is second vice president, Trevor Fabick is treasurer, and recording secretary is Melanie Fabick. McLean sits on the executive as past president.
    Duxbury says the society is always welcoming to volunteers that wish to join the society, or volunteer for events. For more information 403-823-9339.