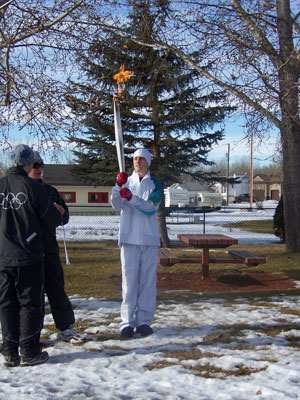 While the Drumheller community was preparing to welcome the Olympic Torch on Saturday morning, for Brandon Huntley, 18, Saturday started like any other day, business as usual at work at Walmart where he works in shop standards.
    At around 12 o'clock, his duty manager, Thomas Laffin, came to see him and asked him if he wanted to go and run.  "At first I thought he wanted me to do something for work so I said "of course," and as we were going towards the front of the store, Thomas said 'you cannot fall and drop the flame!', 'what flame?'" I replied.
    "Thomas then told me 'you'll be carrying the Olympic Torch' and my heart just dropped! That can't be right, I told him, 'no, that can't be right, you have to be picked for that!'"
    By then, Brandon could see two girls from the Olympic Torch Relay standing at the entrance waiting for him.  He was whipped up into their van, fitted out with all the gear and told he'd better phone whoever he could as they had to get going. Brandon was lucky enough to be able to get his mother, Nicole, his girlfriend, Samantha Echlin and his sister, Chelsey, to meet him at the suspension bridge in Rosedale to witness this moment.
    When the Olympic Torch relay team stopped at Walmart on their way to the suspension bridge in Rosedale looking for a replacement Torch Bearer as someone had dropped out, they asked Laffin if he could recommend a staff member known for their hard work and who tries to make a difference every day.    
    Laffin immediately thought of Brandon, "he is a hard worker around the store, he is local and he grew up here."
    "When he realized what we were asking him to do, he got scared and a little hesitant, but we convinced him to go and he went around with the torch…it definitely made his day!" said Laffin.
    "The most exciting part was lighting Amber Brown's torch," exclaimed Brandon. "Just seeing her torch light up, I started shaking, thinking, 'this is actually happening!' I don't think I'll ever have that feeling again!"
    Brandon was born and raised in Munson and left to live in Calgary around the time he was  in Grade 3.
    Three years ago, he had the opportunity to return to live in Drumheller.
    "I thought it would be a nice change of pace to move to Drumheller" he explains "and I have never felt more at home than here!"
    Brandon's five minutes of fame doesn't stop there.  The staff at Walmart are organizing a fundraising event on Wednesday, January 20 from noon, where people can make a donation and have their picture taken with Brandon's torch.
    They also get the chance to have their picture taken with Brandon himself who will be wearing the full Olympic gear he was given on Saturday.
    Any proceeds will be given to the Red Cross to assist them in their rescue operation in Haiti.