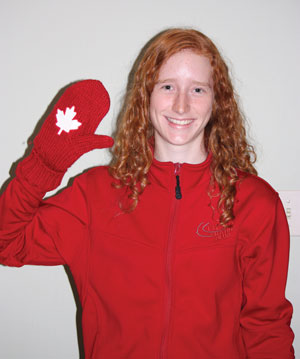 A Delia School student has been selected to carry the torch on a high profile section of the Olympic Torch route as it makes its way to the valley this coming January 16, 2010.
    Jordan Phillips, 17, of Delia may have expected  her graduation to be the highlight of her year. That was until she was selected to carry the Olympic Torch.
    "I was a little bit surprised, I didn't think it was real at first … I thought it was an update from iCoke, but I kept reading and said 'oh my goodness,'" she laughs. "I called my mom over and by the tone of my voice she thought someone was trying to break into the house."
    Jordan found out she was selected in late August. She was selected through iCoke and the Sogo Active program.
    "I figure skate every winter, so I kept track of how much physical activity I did each day," said Phillips. "If I reached my goal each week, I received another entry to be a Torch Bearer."
    She has been selected to run from Gordon Taylor Bridge to the World's Largest Dinosaur.
    'I am so excited about that," said Jordan.
    "It's exciting to be a part of something that is so important to the whole world. It is not just important to Alberta or just Canada, people watch from all over the world."
    She says her extended family will be coming to town to line the route to see her run the torch.
    Jordan grew up on a farm outside of Delia, and there is no sign her active lifestyle will change any time soon. After she graduates this school year from high school, she plans to pursue a career as a pilot. She also plans to  continue with her  figure skating.
    "I have actually taken a coaching course, and once I finish my coaching assignment, I'll be a CanSkate coach," she said. "I would like to eventually upgrade that so I can coach the higher levels with advanced skaters."
    The Olympic Torch will be traveling through the valley enroute to the Vancouver 2010 Olympic Games in just days. The local celebration organizing committee quickly distributed tickets for the celebration at the Canadian Badlands Passion Play Site, however there are many chances for residents that want to see the torch to line the streets and cheer on the runners.
    The Mail is interested in hearing from others in the community selected to carry the torch. Contact us at 403-823-2580 or at news@drumhellermail.com.