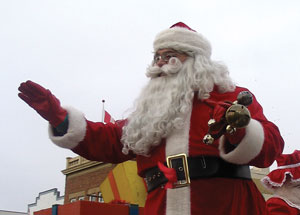 As Santa gets ready for his whirlwind one night annual world tour, youngsters have even more ways to track his progress before he arrives at their chimney.
    Since 1958 North American Aerospace Defense Command (NORAD) and its predecessor the Continental Air Defense Command, have been tracking the moves of Ol' St. Nick as he flies from house to house spreading Christmas cheer.
    It is quite an undertaking for NORAD and it employs the most sophisticated equipment to follow Santa.
    Tracking the man in the red suit starts with the Northern Warning System. This is a network of 47 installations  strung across the northern border of North America. When Santa leaves the North Pole, the radar will catch  it.
    Immediately after he lifts off they go to their satellite. It uses infrared technology, and is able to pick up Rudolph's nose.
    This gives  NORAD an up to the minute view of Santa.
    In 1998, they added the SantaCam Network. This is the same year they made it possible to track Santa's progress online. Children of all ages  are able to track his route at www.noradsanta.org. These cameras are only active on Christmas Eve.
    The fourth line of Santa spotters are the fleet of Canadian and US jet fighters that take to the sky and are able to fly along with  Santa and his reindeer.
    This year there is one more way to track Santa Claus on his route. Computers equipped with Google Earth can watch him on his route.
    While this is a lot of fun on Christmas Eve, youngsters wanting their daily fix of the latest news from the North Pole can go to www.noradsanta.org and  see what kind of progress is being made, and play all sorts of fun games.
    Now happy tracking, but remember when you are watching Santa, he is watching you, and he will not touch down on your roof top unless reindeer dust is spread, and he knows you are snuggled safely asleep in your bed.