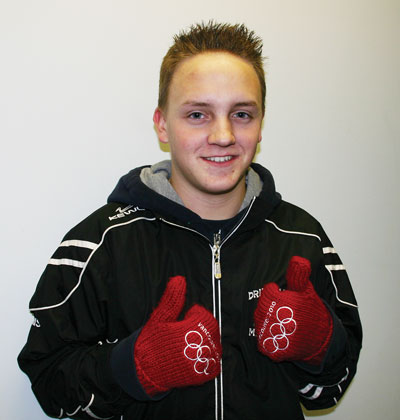 A Drumheller student will be hoisting the Olympic Torch high as it makes its way through the Province in January.   
    Chris Lacher, son of Tony and Linda Lacher is in Grade 11 at St. Anthony's School. He opened an e-mail last August that played Open Happiness, the theme song of a new Coca-Cola campaign. A moment later it told him he had been selected as an Olympic Torch bearer.
    "I'm proud to be a part of it. It is one of the longest relays in Olympic history," said Lacher.
    Lacher had been gunning to be a torch bearer. He applied through the iCoke website and through the RBC websites, but it was through the Sogo Active Campaign that he was selected.
    Sogo Active is a program supported by ParticipACTION and Coca-Cola. It is an endeavour to inspire young people to be more active. For two months late last winter Lacher joined up and began recording his daily activity, and setting weekly goals. If he met his goals he was entered in a draw. They picked a busy time for Lacher as it was during minor hockey playoffs, and Lacher plays for the midget Raptors.
    Beyond hockey, Lacher is very busy with his community service. He often volunteers with the local Lions Club and plays piano at St. Anthony's Church. He also spends time on Fridays at Sunshine Lodge volunteering with some of the senior member of the community.
 Lacher  received confirmation of his status as a relay participant in October. He has also received his uniform, including the iconic red mittens (one way to tell if the mitts are used by torch bearers is the maple leaf on the palm of the gloves has a grip). He also received some promotional material to help cheer on the flame.
    He will be running the torch on Friday, January 15 at noon near Camrose. He will be attending with his parent and some close friends to take in the moment. His older brother and sister, who now reside in Edmonton will also come down to watch Lacher run his part of the relay.
    Lacher's leg of the relay comes just a day before the Olympic Torch Relay Celebration in Drumheller.
    The Mail is interested in the story of more torch bearers as the event continues to draw closer. Please contact 403-823-2580 or e-mail news@drumhellermail.com.