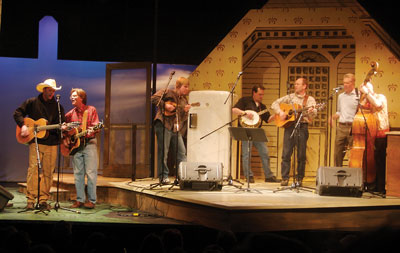 Juno Award winning artist, Corb Lund, has been confirmed as the headline act for the Olympic Torch Relay Celebrations.
    Corb Lund has been around  the Alberta music scene since the late 1980's and has released six albums. His songs are loaded with a traditional country feel but an edge that is rock and roll. He has been named Roots Artist of the Year by the Canadian Country Music Association  for the last five years. 
    In 2006 he won a JUNO Award for  the Roots and Traditional Album of the Year for his release Hair in My Eyes Like a High Land Steer. This release received solid air time with recognizable songs such as Hurtin' Albertan and The Truck got Stuck (including a reprise with legend Ramblin Jack Elliot).
    Lund performed on the Vinyl Cafe when story teller Stuart McLean brought show through Rosebud in 2006.
    He followed this effort up with Horse Soldier, Horse Soldier! which was nominated for the prestigious  Polaris Music Prize.
    About a month ago he released Losing Lately Gambler.
    Ray Telford, of the planning committee is excited to have Lund appear. He said Drumheller, along with three other communities applied to the Alberta Foundation for the Arts for a grant to have Lund appear at these other torch celebrations. Lund is also appearing at an Olympic Celebration on February 19 in Whistler.
    Telford says Lund will perform two sets, and appear solo, without his back-up band, The Hurtin' Albertans.
    The committee is making the tickets available to the general public as early as Saturday, November 28 from 10 a.m. to 3 p.m. at Freson IGA. More tickets will be distributed on Sunday, December 5 at Drumheller Extra Foods and at the Hanna Mall from 10 a.m. to 3 p.m. There will be more tickets available on Saturday, December 12 at Greentree Mall from 10 a.m. to 3 p.m.