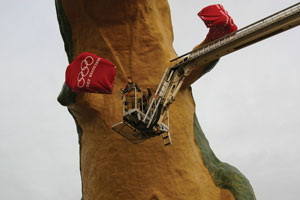 Downtown Drumheller is ready to paint the town red in preparation for the Olympic Torch arrival.
    This week the Drumheller Olympic Torch Relay Celebration committee announced tickets for the event on January 16 will be available as soon as Saturday, November 28 at Freson IGA. This is gearing up to be a fantastic opportunity, as will the events planned for the Friday evening leading up to the event in downtown Drumheller.
    Tara Semchuk of Downtown Drumheller is excited for the incredible opportunity to be a part of the Olympics. She would say it is a once in a lifetime opportunity, but she was in Calgary during the 1988 Olympics and volunteered.
    "Until you experience it, you don't really know how big it is," she says. "It builds community."
     When she says they are painting downtown red, she is being literal.
    This coming week she will be going around to various businesses in the core. They are planning to ask local merchants to decorate their window fronts in red to coincide with the red mittens, which are becoming an iconic symbol of the 2010 games.
    The Friday before the arrival of the torch, Centre Street, between Railway Avenue and 3rd Avenue will be blocked for a street party. This will include the most Canadian of all Canadian Activities, a street hockey game. The Drumheller Floor Hockey League will be on the tarmac to play in the match.
    They are also planning a snowman building contest, music, burning barrels and hot chocolate.
    All things sports will be celebrated. The Valley Figure Skating Club and Drumheller Minor Hockey will  be busy at the arena, and  people can also pop into the Drumheller Curling rink to see some on-ice action.
     Semchuk says she hopes downtown merchants will participate  in the big red day with some big red sales, and stay open until 7:30p.m. That is because at 8 p.m. there will be fireworks. After you are done taking in the sights and sounds of downtown Drumheller, head down to  Centennial Park behind Drumheller Memorial Arena, the perfect area to watch the fire works.        All if this will be a stellar way to get ready for Saturday's Olympic Torch Relay Celebration at the Canadian Badlands Passion Play Site.
    Tickets for the event are free, but there is only a limited number. The committee will begin distributing the tickets  on Saturday, November 28 at Freson IGA. They will continue on Saturday, December 5 at Extra Foods in Drumheller and at the Hanna Mall. On Saturday, December 12 they will be at Greentree Mall distributing tickets. Times are from 10 a.m. to 3 p.m.