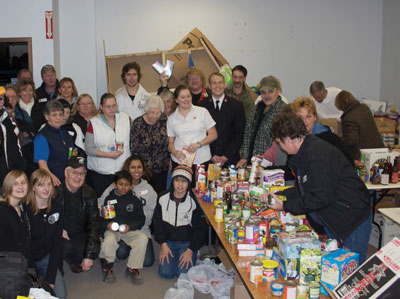 The community is rallying to make sure this year's Salvation Army food bank drive will be one of the best ever.
    This Thursday, November 26, Drumheller and surrounding communities will be blitzed by volunteers wanting to make Christmas brighter for area families, and to replenish the shelves of the Salvation Army Food Bank after a year of higher demand than usual.
    It all gets started at 6 p.m. on Thursday night. Volunteers will be going door-to-door collecting donations for the food bank.
    Organizer Heather Colberg says they have a strong contingent of volunteers ready to help with the collection, but could always use more. The DCHS junior and senior basketball teams will be on route to collect packages, as will members of the Drumheller Dragons. The food will be taken to the former Liquidation World warehouse, accessible from the rear entrances at Greentree Mall.
    Those who wish to volunteer can muster at the various points throughout the valley at 5:45 p.m. and go door-to-door. There are also opportunities to volunteer by heading down to the former Liquidation World to help sort.
    The food bank had enormous pressure on it last year, and could very well see the same thing again in the coming season. Colberg urges residents to take a moment to think about those who are in need, and what you are able to give.
    Last year the food drive was characterized as its best ever with more than 100 volunteers out combing the neighbourhoods or sorting the groceries and toys.
Muster points for
Salvation Army food drive 2009
• Newcastle              Newcastle Community Hall
•Nacmine                 Nacmine Community Hall
• Hunts Crescent,     Bowling Alley area,
• Day care area        DeMott Floors
•Midland                   Midland Community Hall
•North Drum Area   Oasis Car Wash
• Bankview Area       In front of 710 1 St. SW
•Riverside/Willow
Estates                  High school parking lot
• McConkey Park
area to Court House    Parking lot of courthouse
• Downtown, Post office,
• Little League park area            Parking lot of the Brick
• Greentree Area   Greentree School parking lot
• Morrin                 Main Street near fire hall
• Munson              Munson Community Hall
• Rosedale            Rosedale Community Hall
• Carbon               Carbon Community Hall