Lotto win for Rosedale couple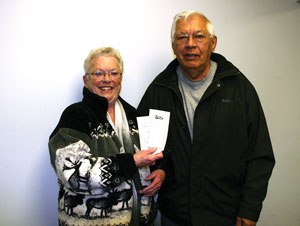 A Rosedale resident has struck it rich playing the new LOTTO MAX.
Don and Flora Cunningham learned they were $1 million winners of the relatively new lottery. Their winning ticket was from the November 6 draw, the same week the Manitoba resident won $50 million grand prize.
    "I was numb," said Flora upon learning they were winners.
    The couple are regular lottery players, and every Friday purchase their quick picks for Lotto 649 and LOTTO MAX from the Drumheller Co-op. Last Friday Flora went to buy their tickets for the week and check her previous plays. The machine read out they were $1 million winners.
    "The ticket was laying around on the table, and we stuck it up on the fridge, we never realized we were sitting on a million dollars," said Don.
    While the couple has played for years, their biggest prize before this windfall was $50.
    Ethel Seippert was working at Drumheller Co-op when Flora came in with the ticket.
    "I was shaking, I was just so happy for them," said Seippert.
    Cunningham was born in Wayne and grew up in Cambria. He left after high school but returned to the valley when he retired, and has been a volunteer in the community and served on the MD of Badlands and then as a councillor for The Town of Drumheller.
    The couple verified that indeed their ticket was a winner and must travel to St. Albert to pick up their cheque next week. They have locked away the ticket in a safety deposit box until then.
    "I feel uneasy holding on to the ticket," he laughs.
    For the Cunninghams, they have no plans yet for the money other than buying a new car.
    "Ours is 10 years old and we need a new one," he humbly says.
    They plan to continue to reside in Rosedale.
    They say lightning doesn't strike twice in the same place, but it comes pretty close. In March of this year their neighbour in Rosedale won $100,000. They also checked their numbers at Drumheller Co-op.