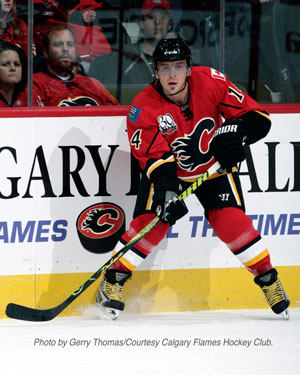 The last time most saw Theoren Fleury  on a set of skates  was this fall as he took one final shot at playing with the Calgary Flames.
    This Wednesday at Drumheller Memorial Arena  he will be slashing his way to the net as part of the Calgary Flames Alumni squad that will be taking on the Drumheller All Stars.
    On Friday afternoon it was confirmed that Fleury would join the squad for the game in benefit of the Badlands Community Facility.
    "This is huge," said Dave Powell, who has been busy organizing the event. "There couldn't be anyone more influential in the Flames' organization."
    Fleury has been in the media spotlight recently. He's had a public battle with a number of issues and in 2003 was suspended from the NHL  for violating its substance abuse program. This year he petitioned the league to be reinstated tried out for the  Calgary Flames. He played four exhibition games and earned four points before he was cut.
    On October 16 of this year he released his autobiography Playing with Fire.
    Also on the comfirmed list are  Jim Peplinski, Jamie Macoun, Lanny McDonald, Tony Stiles, Terry Johnson, Paul Kruse, Dana Murzyn, Ron Stern, Eric Charron, Shedon Kennedy, Mark Astley, Rob Tudor, Warren Skorodenski and Bill Murchison.