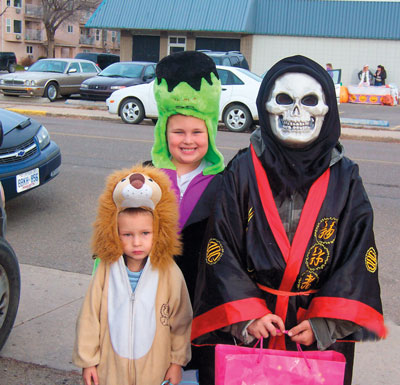 Downtown Drumheller is hosting the 6th annual Trick or Treating this Saturday. Last year 600 children, along with their parents, walked the streets downtown where more than 50 businesses handed out candy and treats. Several businesses have given out treats other than candy and children were able to have their photo taken in their costumes.
    This year the Haunted House will be held at the Worlds Largest Dinosaur, in the Chamber offices from 5:30 p.m. to 7:30 p.m.
    Trick or treating downtown will be from 4 p.m. to 6 p.m. on Saturday October 31, although some businesses will close at 5.
    This year there will be pumpkin carving contest at DARTS, however, it will not be on Halloween it will be the day before on Friday, October 30. You can drop off your pumpkins on Friday, October 30 between 9 a.m. and 12 p.m. for judging.
    During the Dragons game on Saturday, October 31 at the Memorial arena there will be a costume contest sponsored by the Chinook Credit Union.