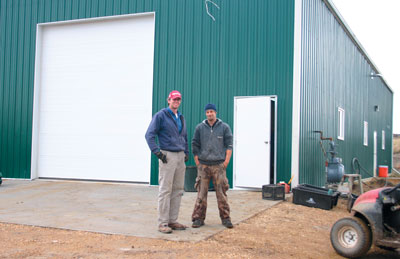 The new shop at Dinosaur Trail Golf Course is complete, and the new facilities are quite an improvement from the previous building, says staff members.
    The shop had a delayed start in the construction which commenced late last fall and was complete in the last week.
    The project was made possible by various small businesses and locals who volunteered their time.
    Inmates from the Drumheller Institution came out to help with many tasks on the interior of the shop including painting, drywall, mudding and taping. Golf course members also donated their time for a variety of tasks.
    "It's a safer environment and I like the fact that we have  more work space, a larger supply area and our own washroom facilities. This makes it so we do not have to enter the clubhouse throughout the day to use their washrooms." said assistant superintendant, Patrick Kimmel.
    The golf course is aiming to use the site of the old shop to build a new tournament facility, in order to create more seating space and cater to larger functions.
    "We are still exploring options on what to do with the old shop. At this time it is undetermined where it will go." superintendant Rob Holm said.
    The maintenance staff have finished moving all their equipment over to the new shop and have discontinued using the old one except for use of the phone. All the maintenance staff at the golf course are looking forward to starting next season in their new shop.