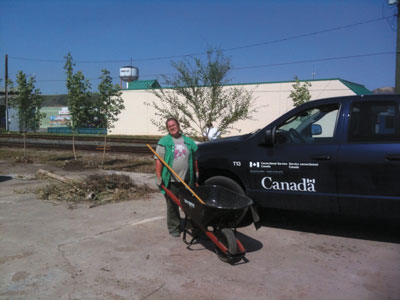 After four years, a committee of the Economic Development Taskforce has begun a project to beautify some of the brownfield sites in Drumheller.
    About four years ago, the members of the task force, with members of the Town of Drumheller began to lobby landowners in the area to allow the community to clean up and beautify some of the sites. After securing consent from CN Rail they have began site work on a lot at the corner of highway 9 and South Dinosaur Trail beside ATCO Electric's Drumheller offices.
    The endeavour is being characterized as a true community effort. Partners include the Town of Drumheller infrastructure and the administration, the Economic Development Task Force, ATCO Electric, Communities In Bloom, the Drumheller Institution, CN, Barry Ranger of Barcomp, Western Financial Group, Century 21, Stevenson Homes and Downtown Drumheller, as well as other contributors.
    The group has been given permission to enter the site, but because remedial work to deal with brownsfields issues may still be needed, they are not able to add any permanent structures.
    Trish Parker of Communities In Bloom is excited for the project. She says the site will see some minor landscaping and have amenities such as planters, picnic tables, benches and a parking area. There are tentative plans for a sign directing visitors to the downtown core.
    "It's a real partnership program," said Parker.
    Parker says tentative plans are to celebrate the past of Drumheller with a historical mining theme.
    "I've been waiting to do something with this spot for years," she said, adding if Downtown Drumheller decided to participate in the Alberta Main Street Program, the motif of the park will fit with the core.
    "Lets make it look like the town used to look," said Parker.
    To beautify the area, there is a need for planters, landscape rock, soil, ranging from $300 to $500 and other items to make the site more pleasing to the whole community. For more information or to donate funds for the items needed, contact Bob Sheddy at 403-324-2222.
    For the group, this is just the beginning, and hope in the future, they will be able to work on other sites in the area that need beautifying.